Posted By RichC on March 31, 2011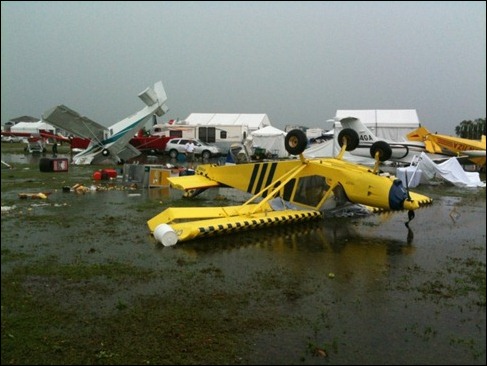 The annual Sun 'n Fun air and trade show is a rite of spring for many pilots who regularly enjoy one of the premier fly-ins in the country. This year the weather in central Florida (Lakeland) did not cooperate and sent heavy ran and damaging winds through the airport ground. Early reports indicating that people were trapped in a collapsed hanger proved to be inaccurate, although there have been injuries.
Lakeland Regional Medical Center has received six patients with minor injuries." Early unconfirmed reports indicated people had been trapped in a collapsed building or tent.  Officials dispute those reports and say there are some injuries, but all people have been accounted for.

Polk Sheriff Grady Judd says seven people total were injured, including one person with a broken hip.

It has not been confirmed if damage was caused by a tornado.