Posted By RichC on April 23, 2011
With the upcoming royal wedding in England, I began thinking a little more about our genealogy again. A couple years ago, I used the limited free access to Ancestry.com to do a little history on my family tree. While doing it, I had a chance to connect with a few other distant family members by email, and phone, who were doing the same … actually they were a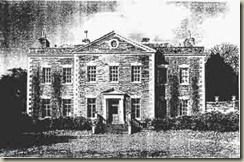 bit more serious than me. The other day one of them sent me an email asking if I knew about a Welsh ancestor, John Corbett a salt magnate. He purchased and unrelated 'noble' Corbet's (one "t" who's family eventually added a second "t" ???) estate where some of the Corbett family remained until it was used by allies in World War II … so I was told.
It's an interesting additional piece of history … although it would be even more interesting to corroborate the family connection. The only previous information I have of my lineage was that our Corbett ancestor came to America in the mid-1800s. From what has been passed down, he came over as a mason who constructed lighthouses (word of mouth) and work his family over. Anyway the old drawing and new photos from Ynysymaengwyn in Tywyn, Gwynedd, Wales are interesting and I thought would post something here just in case there are any readers (or relatives) that can add or correct.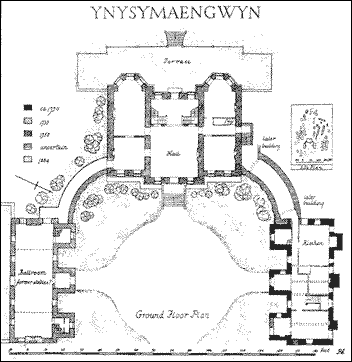 Gwynedd Archives: Meirionnydd Record Office
The Ynysymaengwyn Estate Papers — LINK
Reference code(s): GB 0220 Z/DAB
Held at: Gwynedd Archive Service: Meirionnydd Archives
Title: The Ynysymaengwyn Estate Papers
Short title: Ynysymaengwyn estate papers
Dates of creation: 1756, 1836-1889
Level of description: Fonds
Extent and medium: 0.18 cubic metres (14 boxes)
Name of creator(s): Ynysymaengwyn estate
CONTEXT
Administrative and biographical history: The Ynysymaengwyn estate was owned by the Wynnes until the death of Humphrey Wynne (alive in 1570) when the estate passed to his daughter Elizabeth who married Sir James Pryse of Gogerddan, Cardiganshire. Their sole heiress was Bridgett Pryse who in or around 1612 married Robert Corbet of Moreton Corbet, Shropshire. The eldest son and heir of this marriage was Vincent Corbett who apparently disinherited his son Thomas Vincent Corbett so that the estate passed to his sisters Ann, who married Athelstan Owen of Rhiwsaeson, Montgomeryshire, and Jane who married, firstly, Thomas Price of Esgairweddan and, secondly, Hugh Wynn, rector of Dolgellau. There were no heirs from either of Jane's marriages. A year before her death, Ann Owen settled the Ynysymaengwyn estate, which by now included the Caethle estate in Tywyn which Ann herself had purchased from Richard Braithwaite and Margaret his wife, to her second son Richard Owen, Corbett Owen her eldest son having already died without issue. Richard Owen also died without issue so that the estate devolved upon his sister Ann Owen. She married Pryce Maurice, owner of the Lloran estate, Denbighshire, in 1740. In accordance with the terms of a deed of settlement of 1758 and the will of Ann Owen the estate passed to Ann Owen's grandson, Henry Arthur Maurice, that is the third son of the marriage of her daughter and namesake and Pryce Maurice. Henry assumed the name of Corbet on inheriting the Ynysymaengwyn estate. He died aged 30 in 1782 and was succeeded by his brother Edward Maurice. He likewise assumed the name Corbett. Following his death in 1820 the estate passed to his nephew Athelstan Maurice, who also assumed the name Corbett. He died in 1835 and was succeeded by his daughter Henrietta and her husband John Soden of Bath who likewise assumed the name of Corbett. His son, a deeply indebted Athelstan John Soden Corbett, finally decided to sell the estate, which measured 9,347 in 1873. The entire estate was sold between 1877 and 1879, the main purchaser being John Corbett, MP, (no relation) of Droitwich, Worcestershire, who bought Ynysymaengwyn mansion, demesne and pleasure grounds for £42,000.
CONTENT
Scope and content: Deeds relating to the Ynysymaengwyn estate in Merionethshire and Montomeryshire, 1855-1889; estate papers, 1756, 1861-1882, including maps and plans, sale catalogues, correspondence; and family papers, 1836-1880.
ACCESS AND USE
Language/script: English
System of arrangement: Arranged chronologically
Conditions governing access: No restrictions
Conditions governing reproduction: Usual copyright regulations apply.
Finding aids: Hard copies of the catalogue are available in Meirionnydd Archives, National Library of Wales and the National Register of Archives.
Detailed catalogue
ARCHIVAL INFORMATION
Appraisal, destruction and scheduling information: All records deposited at the Meirionnydd Archives have been retained
Accruals: Accruals are not expected
ALLIED MATERIALS
Related units of description: Further papers relating to the Ynysymaengwyn estate are National Library of Wales, Ynysymaengwyn Estate Records. The main group of deeds of the Ynysymaengwyn estate are National Library of Wales, Peniarth Estate Papers NA 1-280, NB 1-420 and NC 1-3. Further papers relating to the estate in the National Library of Wales are Peniarth MSS 551D, and Minor Deposit 1422B. The personal papers of John Corbett are in the National Library of Wales and Worcestershire Record Office: those in the National Library of Wales at least remain uncatalogued.
DESCRIPTION NOTES
Note: Title supplied from contents of fonds
Archivist's note: Compiled by Mair James for the HMC/NLW Family and Estates project. The following sources were used in the compilation of this description: Nicholas, Thomas, Annals and Antiquities of the Counties and County families of Wales (London, 1872, 2 vols), vol. I; Griffith, John Edwards, Pedigrees of Anglesey and Carnarvonshire Families, (Wrexham, 1998); National Library of Wales, Schedule of Peniarth Estate Papers.
Rules or conventions: This description follows ANW guidelines based on ISAD(G) Second Edition; AACR2 and LCSH
Date(s) of description: March 2002
---
INDEX ENTRIES
Subjects
Corbett family, | of Ynysymaengwyn | Archives
Ynysymaengwyn Estate (Wales) | Archives
Personal names
Corbett family, of Ynysymaengwyn
Corporate names
Places