Posted By RichC on June 4, 2011
I was feeling melancholy last night after posting the fifth straight down week for the benchmark Dow Jones Industrials, and it got me thinking that there aren't all that many more years before this 'pirate' (moi) hits another milemarker? There just isn't that much more working time left in me to complete "the planned" retirement that I once dreamt about just a few years (quite a few) ago. The realization is starting to take hold that what the naysayers have been barking about might be coming true … we might be in for another economic downhill slide – a double-dip recession or heaven forbid a depression. It started me wondering if those who voted for the "hope and change" President and the senate and houseful of elected representatives back in 2008  are rethinking their votes?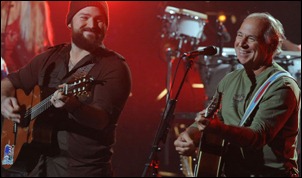 It seems to me that President Obama and company are continuing the irresponsible spending started under the previous administration — I'm not happy with how the GOP handled things either … it is just that Obama, Pelosi and Reed have taken irresponsible spending to an entirely new level. Ugh …
I think this kind of moment is why we need our escapism … for some its just listening to music, others the music video … and to others the annual "be kids again"  opportunity to be Parrotheads and head to a Jimmy Buffett concert.
| | |
| --- | --- |
| | Knee Deep: Zac Brown Band and Jimmy Buffett |
Thanks Taylor, for sending me your email at just the appropriate time last night saying,  "Looks like my generation finally mixes in with your generation. This just proves that Jimmy Buffett fits in with any generation. Enjoy your new favorite song." — Audio above … followed by my including a "Here We Are" Jimmy Buffett video recap from Jimmy Buffett's Take the Weather With You [2006] album.