Posted By RichC on August 22, 2011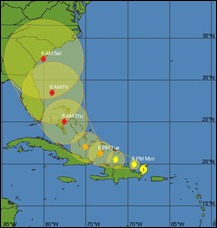 The U.S east coast and Bahamas look to be in the crosshairs of a strengthening hurricane Irene. The storm finished with Puerto Rico leaving more than half the island without electricity and a quarter of the population without running water. No deaths or injuries have been reported at this time.
Hurricane Irene's winds remained at 80 mph but the National Hurricane Center expects Irene to continue strengthening over the next few days as it moves through the southeastern and central Bahamas. By Thursday, forecasters say it could be a major Category 3 hurricane with winds of up to 115 mph. The storm remains a threat to the Atlantic coast, from South Florida to the Carolinas.
—