Posted By RichC on March 8, 2012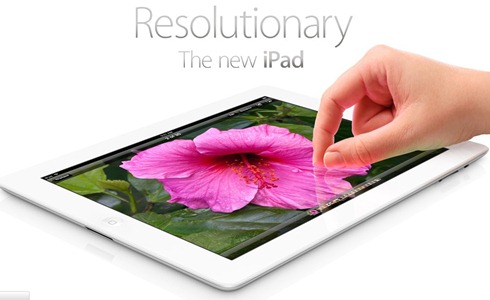 Apple introduced their highly anticipated "new iPad" and although most of the specs were as expected, CEO Tim Cook didn't reference it as the iPad3 … just the new iPad (although it is the third generation).
A few leading features are the new 9.7 inch retina display with 2048-by-1536-pixel resolution, a class leading 10 hour battery life, dual-core A5X chip with quad-core graphics and new optional 4G LTE service with either Verizon or AT&T.

Another improvement is a 5 megapixel autofocus camera that also shoots 30fps 1080p video with image stabilization (also a front facing FaceTime lower resolution camera). As for storage, the models continue with the 16GB on the low end and max out at 64GB for the top of the line.
For me, the 3 biggies for wanting an Apple iPad are:
Snappy and easy to use with plenty of apps (a limitation with my webOS)
Incredible battery life … I can vouch for my son's iPad 2 – just amazing!
Large high quality bright display making reading and video viewing enjoyable
Just a want at this point – low cost, unlimited Sprint 4G LTE data with GPS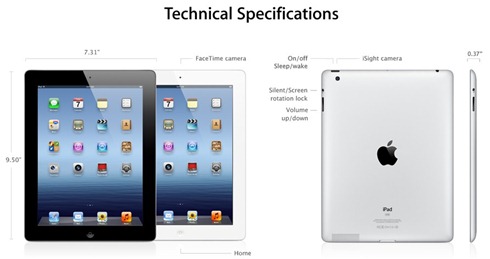 As for pricing … somewhat the same as the existing iPad2 … which by the way will still be on sale but for $100 less than before – starting at $399.
Though slightly thicker and heavier, the device looks and feels much like the current iPad 2. It also has the same starting prices: $499 for the Wi-Fi only models, or $629 for those that also have cellular connectivity. Those devices will now be capable of 4G wireless speeds, which are as much as 10 times faster than 3G found in the iPad 2.