Posted By RichC on March 15, 2013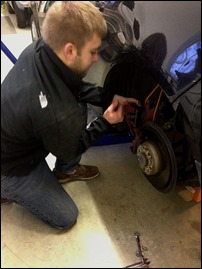 While Brenda spends the week getting the house ready for an in town bridal shower for Katelyn, Taylor and I did our best to stay out of her way. We decided to replaced the rear brakes on his Volkswagen GTI earlier this week while he was home on spring break … although am sure he would have rather been some place sunny? 
As is the norm for VWs, the rear brakes wear quicker than the front – I have heard that this is by design and prevents the nose diving that is common with many manufacturers. (???) This was the first brakes for Taylor's 2007 car and he did an excellent job. We opted for the less expensive Autozone "house brand" brakes that offer a lifetime replacement warranty. I've used these brakes before my VW, as well as Katelyn's TDI and Brenda's RAV4, and smile each time I return the worn brakes pads (and lifetime rotors for the Toyota) and get new parts for free!
I'm also closer to getting the basement … and in particular my workshop … back together. Since the equipment was mostly in the garage, it was a good time to strip the tile floors and put some fresh wax back it. (almost too nice to mess up again!)