Posted By RichC on April 17, 2013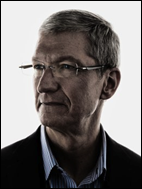 Who is calling for Tim Cook's head?
Apple shares were down 4.7% to $406 this morning and nearing the psychological $400 mark. If it drops below that point, Apple executives better start circling the wagons if they haven't already. The stock has not traded below the $400 mark since late December 2011 and have slid nearly 7% since last Wednesday.
According to most reports, "analysts from Bernstein Research and Goldman Sachs issued preview notes, predicting a lackluster earnings report for the company's fiscal second quarter, which is slated for Tuesday after the closing bell" and "sales of the iPhone are expected to decline notably from the December period."