Posted By RichC on September 6, 2013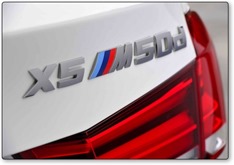 The newest BMW X5 diesel will be making its debut at the 2014 Frankfurt Motor Show in a few weeks and will turn a few heads; it is the most powerful X5 diesel BMW has ever built. The M50d is not planned for the U.S. but will make its 546 lb-ft of torque and 381 HP heard in Europe. The top speed is limited to only 155 mph, but can make it to over 60 mph in just over 5 seconds. The fuel efficiency is calculated on European mixed course and came in at an impressive 35.1 mpg – that is something I'd love to see. The suspension is adaptive and the SUV comes standard with 19 inch alloy wheels and low profile tires (20 inch are an option). The price has not been disclosed, but it is said to be the most expensive diesel burning X5 available (a few photo below).
Testing the new Mac GifGrabber app. Nice, ehh?