Posted By RichC on August 30, 2013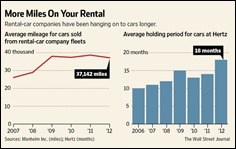 According to Scott McCartney who writes for the Wall Street Journal, rental car companies are keeping cars longer and accumulating more miles than in years past. The slow creep of their aging fleet is a result of the long recession and the improved quality of today's vehicles (industry spokesmen say), but from a car renter's perspective may also have something to do with the lack of national competition and a desire for higher profitability at the sacrifice of customer satisfaction (take a look at just how uncomfortable air travel is today). Until I read the WSJ article, I was not aware that there are only three major car rental companies: Hertz (who owns Dollar / Thrifty), Enterprise (who owns National) and Avis (who is the same company with Budget). Unless you're headed to a vacation destination, good luck finding competition … in fact I just rented a car in Minot, ND for 2 days next week for a best price of $170! – Ouch!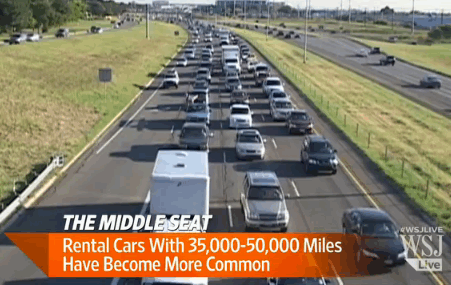 Testing a new Mac app to create animated gifs called GifGrabber … kind of fun.
The frequent renter will most likely suffer when it comes to wear and tear issues during their trip as McCartney points out with examples in his article.
Last year I had a personal experience with a higher mileage rental and ended up returning it to Thrifty in Daytona Beach with over 38,000 miles due to an unbalanced tire. If I were driving it just a few miles I would not have bothered, but since I was "relocating it" from Florida to Ohio for the company ($7 rental for the week) it was both a comfort and safety issue … not to mention an inconvenience if a tire blew. Thankfully the company set up a return while driving north on my way, but it was still a hassle and inconvenience.
Rental-car companies have moved away from leasing new cars from manufacturers for a few months. In recent years, they've been more likely to buy and hold them for up to two years before selling them. The average holding time for a car at Hertz has grown to 18 months in 2012 from 10 months in 2006, for example.
So what can you do? Here are a few tips from Scott McCartney and the WSJ article.