Posted By RichC on December 19, 2013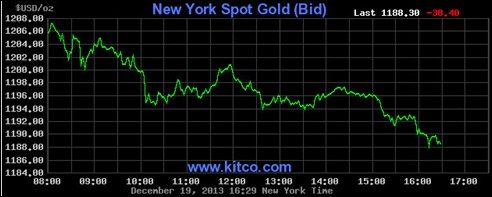 Gold dropped to a six-month low on Thursday selling off as the Federal Reserve's pulled back in the U.S. monetary stimulus.  It closed down 2% to $1,196.31/ounce which is the lowest since June 2013. Give credit or blame the Fed which took its first step in winding down the easy money policies which helped to drive gold to record highs in the past few years.
Realistically the Fed's move on Wednesday to trimmed the pace of its monthly asset purchases was modest. They inched back by $10 billion to $75 billion. With the U.S. central bank also lowering its expectations for both inflation and unemployment over the next few years, concern eased and gold lost value. "A lot of gold investors are anticipating deflation not inflation as a result of the Fed announcement, taking advantage of the downside momentum and shorting gold at least temporarily," said Jeffrey Sica, chief investment officer of New Jersey-based Sica Wealth with over $1 billion in client assets.