Posted By RichC on January 24, 2014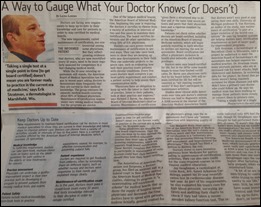 It has been a few year since I've needed to scan a pile of papers and convert them to text, but a project crossed my desk this week which had me firing up and updating my free copy of ABBYY Finereader (it came with my scanner). The last real project was when I was still working out of my office in Cuyahoga Falls (a few photos) and was assisting the legal department at one of the rubber companies digitize some of their documents. Ugh what a nightmare job!
After a quick reinstall on my old Gateway notebook, I tested the OCR ability on a "doctor" article I wanted to share with my MD daughter and son-in-law (image right and PDF below). It did a great job on the single page scan … not sure how well it is going to do on a pile of pages?