Posted By RichC on January 23, 2014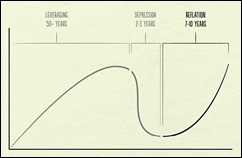 Would you like to have an "aha moment" in understanding why and how we attempt to manage our economy?
Then watch this 30 minute YouTube video by Ray Dalio, founder of the largest hedge fund in the world, Bridgewater Associates. If you prefer reading, visit economicprinciples.org and download the research paper … the light bulb will come on, it is that good.