Posted By RichC on May 30, 2014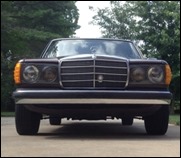 The weather was nice for driving this past week for a Memorial Day trip to Atlanta, so instead of taking the Honda Pilot, we opted to take the 1982 Mercedes Benz 300D Turbodiesel. I've been driving it regularly on trips to and from NE Ohio (500 miles rt) and to visit my daughter and her husband in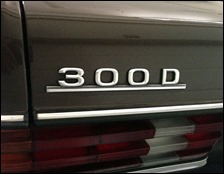 Columbus (200 miles rt), but this was the first multi tank longer highway trip since driving to New York last year (1000 miles rt). I wasn't overly concerned, just hesitant about a few aging items … no need to have been concerned as all was without incident.
As a "daily driver" the 300D isn't the most comfortable of cars. Besides the lack of "off the line" acceleration, the car could really use an overdrive gear for highway cruising. I usually drive around 75mph and the 3300 RPMs is a little high for a 5-cylinder diesel which tends to be far more efficient at RPMs in the mid-2000s – quieter too. That aside, she didn't miss a beat and offered that powerful sounding torquey growl when climbing through the mountains. I ran the AC much of the time and despite a nice cold stream of air, the seatbacks got sweaty due to the noticeable lack of insulation … particularly the door seals. (fixing the cruise control is still on my "to-do" list)
Diesel fuel prices were actually lower than gasoline this weekend which gave me another reason to take the Turbodiesel car; I even found $3.599 for diesel in Knoxville Tennessee just after logging 461 miles on the previous tank … still only 26.3 MPG. My only "stressful moment" was taking Brenda the 40 miles from her sister's house, north of the traffic nightmare of a city, to the Atlanta Airport to catch a flight to Minneapolis during rush-hour … and then having to drive back though it again in order to head home to Cincinnati. Ugh!