Posted By RichC on July 3, 2014
If you're thinking about saving a few fuel dollars and are contemplating driving an electric-vehicle like the Nissan Leaf,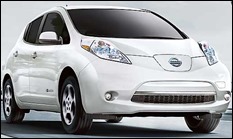 be sure to factor the price of a new battery into your "energy savings" numbers. Nissan's replacement battery for the popular EV Leaf is $5,499, which includes a $1000 credit for the old battery. That's a big OUCH for those wanting to make their cars last a few years.
It will be interesting to see if complaints continue from owners who live in hot climates – warranty changes last year to address. They have complained about rapidly degrading batteries … probably not something that only affects Nissans. I've often wondered how owners who look to their 8 year/100,000 mile warranty for battery replacement when they begin to experience "range problems" in the 6th or 7th year of ownership? Currently "Nissan will repair or replace a Leaf's battery within five years or 60,000 miles if it loses more than 30 percent of its charge capacity." I've heard from Chevy Volt insiders who say that battery preservation is one of the primary reasons they do not extend the "EV-only" range on their vehicles and cycle the engine start – perhaps smart in the long run.
IMHO, the EPA window sticker is less than truthful if it does not not factor in a "battery replacement" as part of the "fuel cost" calculation. Buyer beware … or instead lease.