Posted By RichC on July 7, 2014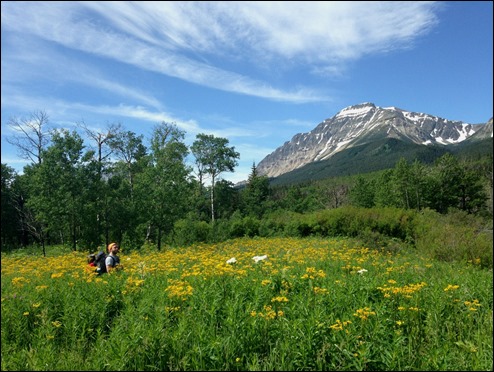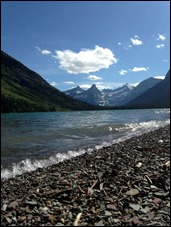 First … my son Taylor took a few days away from work in Williston, North Dakota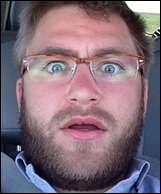 to going backpacking with a few guys in Glacier National Park – Montana. His weather was picture perfect and besides being out of shape for the long an challenging hikes, he had a fantastic time. I'm so glad he is taking the opportunity while young and single to enjoy the beauty around him … even though driving though Montana isn't exactly close. Gorgeous views.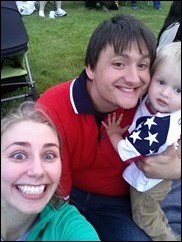 Katelyn on the other hand is already enjoying her new home and life in Minneapolis. Husband Drew worked on July 4th, but cousin Justin and his family invited Katelyn to celebrate the day with them. Every time I see Maddy and Evan's photos I realize just how fast life is moving. I hope Justin and Katie know how much I appreciate them making both Katelyn and Drew feel welcome in Minnesota?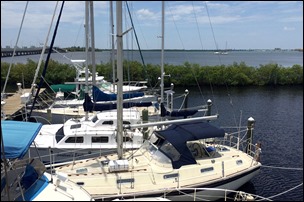 As for me, I spent part of my time in Florida doing some hurricane prep on the boat. I stripped the sails and bimini off of Encore (photo right with just sail down) and gave my friend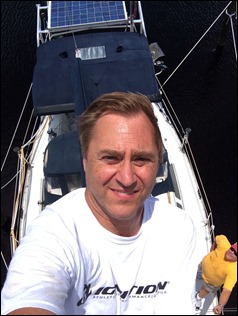 Mark a hand with one of his "up the mast" projects. He did the hard work of hoisting me aloft, while I enjoyed the scenery from my perch in the bosun's chair.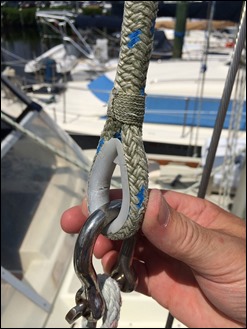 I took measurements in hopes to find a fair prices on a few lines (halyards, sheets, furling), and dropped my genoa (sail) off at SouthSails for some restitching. 
Brenda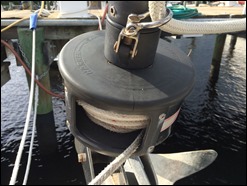 worked on July 4th and so we celebrated our time together on the weekend. We worked in the yard, fixed Angus Dogs and then ribs on Sunday afternoon. The weather was about as nice as one could ask on both Saturday and Sunday … the humidity was low and temperatures warm. For those few times when the working in the yard and cutting down dead trees had me sweating, there was always the pool (which still needs to be cleaned BTW). It couldn't have been much nicer 4th of July and weekend … except maybe having the the family back home?
As you can tell from the below photo, I pretty good at the supervising!