Posted By RichC on August 22, 2014
After almost two year of using several different wraps and "powered cases" for my iPhones, I whittled my picks down to three … or 4 if you consider "no-case" as an option. In fact, using the iPhone without a case makes it very small and lightweight; slipping the tiny iPhone 5 and 5s in a pocket is hard to beat for convenience. The build on this little full-featured smartphone is a thing of beauty …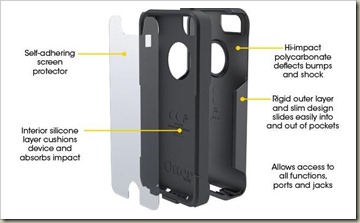 but that solid block of aluminum and glass is definitely a problem if when you drop it. So it is my conclusion that some kind of case is necessary.
Here are my three case choices:
The Otterbox Commuter series case with the two layers of protection and large lip around the screen; is is near perfect for the occasional and likely bump or drop. I'm also fond of the little plugs to keep dust and debris out of the opening. If it were not for needing a longer battery life, this would be my everyday case and costs about $20 at Amazon.
Since battery life IS an issue, I think the best battery cases are the Mophie Juice Pack Air and Plus. The Air offers a 1700mAh battery and the Air Plus a 2100mAh.  Although they are not the cheapest and don't offer the longest battery recharge capacities, the fit  of the case and ease of operation are excellent. I never had a problem with "my" Juice Pack Air" (although Mophie replaced my son's under warranty). Even though Mophie is my favorite, these two battery cases are a little pricey at $100 and $119.
This leads me to the current everyday case on my iPhone 5s; the Meridian made by Lenmar which is dollar for dollar it is the best deal. The reasonably priced sturdy case simplifies access by just using cutouts rather than covered switches as in the Mophie and Otterbox. This is not a problem for light duty. The build in battery is a large 2300mAh battery making it the best in class, a claim which was backed up by tech magazine TheWirecutter testing. One weakness is the combination soft switch to check the battery status and turning the battery on and off. Reading the battery condition and turning on and off the battery is not as intuitive as with the Mophie. That said, it's priced at HALF that of the Mophie and one would be hardpressed to notice the difference in "carry-ability" when using it everyday. This makes it the  best deal … as does $59 at Amazon.
A couple "wants" from both would be a little kick-stand on the back and plug that would accept the Apple lightning sync and charge cable … although there is something to be said for charging it with the universal micro USB.