Posted By RichC on September 24, 2014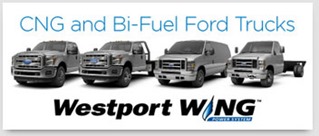 With the lower cost of domestic natural gas here in North America, the next couple of decades will continue opening the doors of opportunity for innovative  companies who finding better ways to utilize this domestic and abundant clean fuel. Westport Technologies (WPRT), a leader in advanced natural gas engines and vehicles, has fallen flat as of late due to plentiful crude oil and lower fuel prices partially do to the falloff in demand of China and India. It is reasonable to believe that as the economy picks up in the U.S. that our increased consumption will stimulate the economies of our trading partners, including China and India, and increase demand (and price) for energy once again.  Westport's advanced natural gas internal combustion technology will be well positioned when this happens.

On Tuesday the company announced advancement which offers Proprietary Enhanced Spark-Ignited Natural Gas System Targeting Medium-Duty Trucks.
8:00a ET September 23, 2014 (PR NewsWire)

~ Up to 10% Improvement in Power and Torque over Diesel; Targeted at Medium-Duty Truck Applications ~

Westport Innovations Inc. (TSX:WPT) (NASDAQ:WPRT), engineering the world's most advanced natural gas engines and vehicles, today is unveiling its newest proprietary technology, the first generation of enhanced spark-ignited (ESI) natural gas system. Westport's new revolutionary approach to natural gas combustion technology is designed to provide vehicle and engine original manufacturers (OEMs) with a "downsized" natural gas solution that is cost competitive while providing similar levels of power, torque, and fuel economy to a larger diesel engine. Using 100% dedicated natural gas as fuel, Westport's new technology optimizes the combustion and thermal efficiencies of the engine by taking advantages of the positive properties of natural gas.

Developed to meet the highest level of OEM quality standards, Westport's new combustion system and components have been undergoing testing and offer ready integration into OEM applications globally. Its durability and reliability levels are expected to meet an OEM's extensive engine development program. The Westport™ ESI combustion system is targeted at sub 9L engines for Class 6 and 7 trucks applications and is also adaptable for sub 2L applications for use in automotive and non-automotive applications.

"As gasoline and diesel engines progress, it is critical that OEMs offer natural gas engines that retain their expected performance while providing the environmental and economic benefits of natural gas," said Jack Keaton, Westport VP of Global Spark Ignited Direct Injection. "Westport is taking its technology leadership to the next level by introducing a long term technology solution that allows improvements in engine performance and fuel economy, thus offering highly attractive operating costs and low emissions profile. As the ESI technology continues to be developed, Westport will incorporate competitive performance upgrades to support the longevity of this system."

Key Features of Westport ESI Natural Gas System

— Optimized for spark ignited engines – Improvements in combustion and thermal management compared to typical spark-ignited natural gas engines ultimately enhance the engine's reliability.

— Designed to provide up to 10% improvement in power and torque over the base diesel engine – Higher performance from a spark-ignited natural gas engine compared to a diesel engine potentially allows a 4L natural gas engine to replace a 6L diesel engine, which results in substantial mass reduction.

— Comparable fuel economy to diesel engine – By taking advantage of the positive properties of natural gas—for example, natural gas has less calorific energy compared to diesel—Westport believes that it is able to improve the fuel economy of a typical spark-ignited natural gas engine. In addition, cooled exhaust gas recirculation (EGR) is applied, which is a well known mechanism for improving fuel efficiency, used extensively in passenger vehicles.

— Designed to provide up to 40% brake thermal efficiency – Brake thermal efficiency measures how much fuel is converted to useful energy. Typical spark ignited natural gas engines have approximately 25-30% brake thermal efficiency and diesel engines have approximately 41% brake thermal efficiency.

— Designed to provide up to 5% weight reduction compared to the base diesel engine – Weight is a critical element for truck fleets, so any reduction in engine weight equals an increase in payload.

— Fuel injection – The current system utilizes port injection providing better cylinder to cylinder control of the air fuel ratio. However, it is designed for upgrades to future technologies.

— Incorporates key Westport engine components – This includes Westport WP580 Engine Management System and Westport fuel system components.

— Stoichiometric operation and three-way catalyst (TWC) aftertreatment – TWCs are effective, simple devices, packaged as part of the muffler, that provide consistent emissions control performance and are maintenance-free. By using 100% natural gas, there is no requirement for diesel particulate filter (DPF) or selective catalytic reduction (SCR) systems. This allows cost and weight reduction over base diesel engine.

— Expected to meet the most rigorous emissions levels – Westport ESI is designed to meet the latest emission regulations including Euro VI and U.S. Environmental Protection Agency 2014 standards.

— Compressed natural gas (CNG) or liquefied natural gas (LNG) capability – Every natural gas engine burns CNG. Ultimately, the customer will decide which form of natural gas they wish to carry—either high pressure CNG or cold cryogenic LNG—based on a number of variables including but not limited to: weight of the load; weight of the fuel storage system; range required by the vehicle; and availability of CNG and LNG.

Westport is currently in various stages of development and negotiation with several vehicle and engine OEMs for ESI applications in medium-duty truck and automotive applications.

About Westport Westport engineers the world's most advanced natural gas engines and vehicles. More than that, we are fundamentally changing the way the world travels the roads, rails and seas. We work with original equipment manufacturers (OEMs) worldwide from design through to production, creating products to meet the growing demand for vehicle technology that will reduce both emissions and fuel costs. To learn more about our business, visit westport.com, subscribe to our RSS feed, or follow us on Twitter @WestportDotCom.

Note: This document contains forward-looking statements about Westport's business, operations, technology development or the environment in which it operates, which are based on Westport's estimates, forecasts and projections. These statements are not guarantees of future performance and involve risks and uncertainties that are difficult to predict, or are beyond Westport's control. Consequently, readers should not place any undue reliance on such forward-looking statements. In addition, these forward-looking statements relate to the date on which they are made. Westport disclaims any intention or obligation to update or revise any forward-looking statements, whether as a result of new information, future events or otherwise.

SOURCE Westport Innovations Inc.