Posted By RichC on October 18, 2014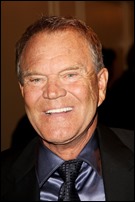 Glen Campbell was always a favorite entertainer, singer and songwriter while I was growing up … especially that 1975 "Rhinestone Cowboy" year. He was one of the few musicians enjoyed by both my parents and me, which either made me an "odd" teen or very fortunate to have similar musical taste? 
Unfortunately for his family, and many senior citizens' families, age brings with it some very sobering health conditions — Alzheimer's disease being one of the more frightening. Like Glen Campbell we're dealing with memories issues in our family too. My brother's mother-in-law recently passed away having declined quickly dealing with Alzheimer's and both my wife's mom and my father are showing signs of dementia. We both are hoping its "normal aging" and that with proper geriatric health care they will be able to retain most of their memory and continue to enjoy life.
Recently Glenn Campbell release a music video that is sure to bring a tear to those knowing family or friends struggling with aging and memory loss.
He's lived a life of up's and down's and had an impressive musical career – his discography.
I've tried and I have failed Lord
I've won and I have lost
I've lived and I have loved Lord
Sometimes at such a cost
One thing I know
The world's been good for me
A better place awaits
You'll see
   –Glen Campbell, "A Better Place"