Posted By RichC on December 24, 2014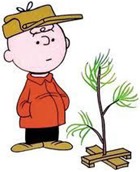 It is shameful that Brenda and I have been too busy with "who knows what" to decorate or even put up a Christmas tree this year – the first time in our married life. We have used the excuses that our kids are not coming home, that we are not entertaining, that we have been out of town and too busy getting my dad situated after being in the hospital … but to be honest, we didn't make it a priority. I certainly could have decorated a tree or put up lights and Brenda does enjoy decorating, but the date crept up on us and now it seems ridiculous to decorate.
BUT Christmas isn't just about decorating trees and putting up lights … it's about the birth of Jesus. So that is where our focus will be this year. 
For unto you is born this day in the city of David a Saviour, which is Christ the Lord. And this shall be a sign unto you; Ye shall find the babe wrapped in swaddling clothes, lying in a manger. And suddenly there was with the angel a multitude of the heavenly host praising God, and saying, Glory to God in the highest, and on earth peace, good will toward men.

Luke 2:11-14
Wishing you and your family a very Merry Christmas.