Posted By RichC on December 5, 2014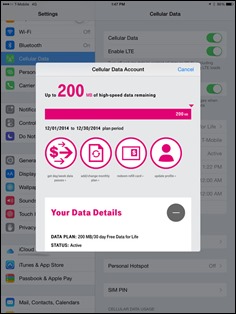 While traveling to northeast Ohio this past week, I finally tested the "free streaming music" available from T-Mobile on my 4G/LTE connected iPad Air 2. I streamed it for an hour driving on the interstate without a hiccup and glanced at my recently reset 200MB free data "meter" (screen shot left) and didn't show any data use.

On longer drives the iPad sits on a Ram Mount when I'm in my Honda Pilot and so running a Pandora station like Jackson Browne (my current favorite Pandora Station) is a pretty easy task … so as long as a have a T-Mobile service (not necessarily the service that those with Sprint, AT&T or Verizon are use to). Nice perk from the least expensive wireless tablet data provider I could find.
NOTE: I purchased a 6 month $10 bucket of 5GBs of data in October which kicks in each month when I use up the free 200MB. If the service footprint was better, T-Mobile would be a real winner.
While on the subject of music … and I'm thinking of you Aaron Howard …
Q: What was the 333rd "Greatest Song of All Times" according to Rolling Stone?

A: Norman Greenbaum's 1969 "one hit wonder" Spirit in the Sky.
| | |
| --- | --- |
| | Spirit In The Sky — Norman Greenbaum, recorded in 1969 |