Posted By RichC on February 9, 2015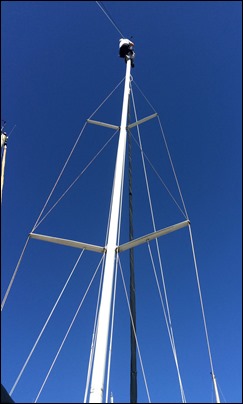 When I was down working on our sailboat Encore last week (helped my friend Mark on Zola), I must admit it felt good to be in shorts and flip-flops for a couple days. The weather was sunny but not necessarily hot … but perfect for boat work.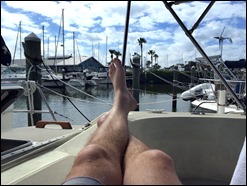 Primarily the goal was to meet up with Tim LaValley, a diesel repair guy (and his daughter Bridget) since something wasn't quite right with our Volvo 2003 diesel. By the time he was done assessing the problem, it was clear to me that the problem was more than just questionable fuel in the tank, the Racor filter or the questionable home made anti-siphon valve (I'm replacing the corroded metal one below). Parts came off, a leaking injector pulled, the alternator sent out to be serviced and new seals/gaskets ordered. Ugh, but so glad I consulted him since I know just enough about working on diesel engines to be dangerous!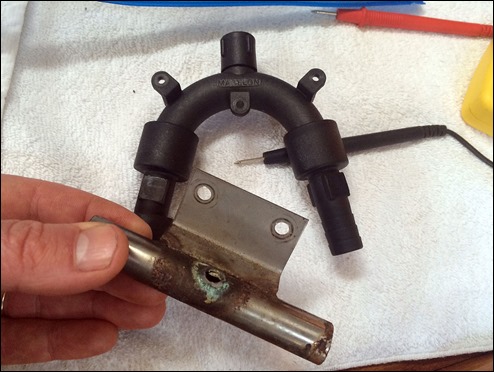 Another project was for Mark and I to work a top our masts (hoisted Mark up on Zola in the bosun's chair). I put my new Mast Mate climbing ladder to work with Mark on the safety line, and all went well … but my legs were sure sore the next day. The offset bayonet LED anchor light is now working (night photo at the dock below) as are the navigation lights that I replaced last trip (solar Nicro vent repaired too). All in all, the improvements will save a few amp hours as LEDs are a miniscule draw on Encore's battery bank compared to incandescent bulbs.