Posted By RichC on February 20, 2015

I made the big 99 cent plunge a couple months ago in paying for more Apple iCloud space primarily to keep data on my iPhone and iPad safely backed up (although it is easy enough to do with and iTunes Lightening to USB connected computer). What I'm finding is that using iCloud is becoming a little more routine as my go-to cloud storage choice for Apple OS and iOS, but is a little more limiting than I would like.
Each computer needs to be logged into the iCloud account and have "Documents & Data" syncing turned on. You can check if "Document & Data" syncing is turned on by checking in the iCloud System Preferences Panel.

You need to create a folder to hold all of your documents and create access to that folder through the Finder Sidebar. You need only create the folder once on one computer, but you will need to add it to the Finder Sidebar on all your computers.

To create a folder:

While the Finders 'Go' drop down menu is visible, press and hold the option key (alt) which will reveal the hidden "Library" option.
Select the "Library" option from the list and the contents of the Library folder will be displayed in the Finder.
Locate and open the "Mobile Documents" folder.
Create a new folder inside the "Mobile Documents" folder, name it appropriately (e.g. "My iCloud Documents").
Create an alias of the new folder (⌘+L) and drag it to the "Favorites" section of the Finder Sidebar.
Repeat steps 1 through 6 (with the exception of step 4) on each computer.

You can now add files and folders to the folder in the sidebar and they will sync between your computers. You can also open the documents within the folder and save any changes you make. You can not currently access this folder from an iPad, iPhone, iPod or iCloud.com
Once upon a time back in 2008 I used Sugarsync,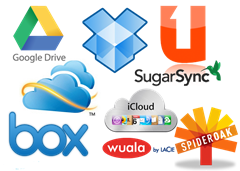 but they were slow to improve space recovery (wouldn't permit recovering space when photos were deleted) … and so I moved to the more costly Dropbox. In my opinion, Dropbox is still the best solution, but you pay a premium if you want more than their token free space. Cheapskate Rich decided to build up space using "perk" and referral space (currently at 8GB free) and instead of paying, added several other clouds services. All of the others continue to entice with more and more free space … particularly if you buy products or services.
The big players like Google and Microsoft both add extra Gigs of data if you subscribe to their software suites or buy hardware … and both Google Drive and Microsoft OneDrive have free promotions that will add space too. Google is running their security checkup and will add an additional 2 GBs through the month of February 2015 and Microsoft is giving away 100GB free for 2-years if you sign up for Bing Rewards (feeding out line so they can set the hook).

Another notable, the online behemoth Amazon with their CloudDrive, has their cloud storage option too … but fall a bit short in one place or the other, as of this writing. I've decided to use the Amazon space for long term backups, even though I really thought maybe their CloudDrive would work similar to the AWS Amazon S3 best in class data space. It doesn't. 
Finally there are the other competing for your data

… Box.com, Copy.com, BitCasa, Spideroak, Wuala, JustCloud and Cubby among others. Of this last grouping, I use Cubby everyday to exchange temporary files and photos between devices. It works efficiently, but still falls short when it comes to organizing and searching on a mobile device. Still, using a combination of cloud storage services gives me a chance to compare one with the in "real use situations" before going all-in and paying for synchronized cloud storage.