Posted By RichC on July 9, 2015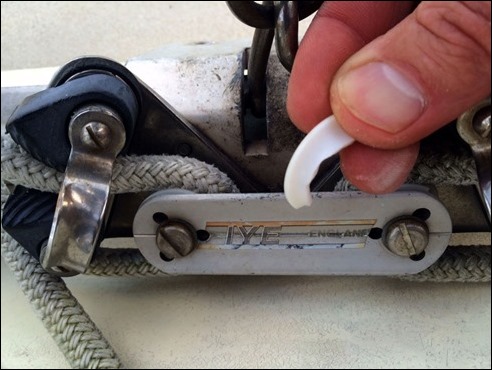 So much for checking the old IYE traveller carefully on Encore before ordering $81 worth of the wrong bearings. It's not all bad, since the previously purchased Delrin bearings will be needed eventually as they will either wear out or fail before long.
Unfortunately the broken pieces in the top photos during a recent sail were from the two Delrin ball bearing sheaves … and they look equally if not more expensive. So it goes when maintaining an old boat.
Control Sheave Ass'y for Traveller Car: IYE 32C-36:
Control Sheave Assembly for IYE 1 1/4" Traveller Cars, fits all 4-wheel, and New-style (4 3/8" long) 6-wheel Traveller Cars that have tapped axles. Assembly consists of (2) 1 1/8" OD Delrin Ball-Bearing Sheave Assemblies and a Cover Plate with (2) mounting screws. Fasteners are on 2 5/8" Centers. Cover Plate is 3 3/4" long x 1 1/16" wide.