Posted By RichC on November 4, 2015
Over the last couple years, my son-in-law and I have been slowly upgrading our home light bulbs with varied LEDs. For both of us it has been an experiment in getting the most satisfactory bulbs for the least number of dollars …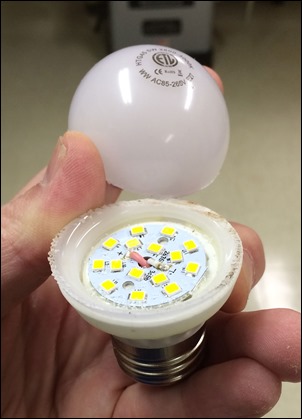 unfortunately that usually means ordering a box from China in bulk (gambling with quality).
One "small" 110v E27 bulb I bought has been a favorite and has been performing beautifully … and they were inexpensive ($2-$3 ea). The small LED uses 5 watts and casts a warm enough (2800-3000K), yet bright enough light to rival the previous 25-40 watt incandescent light bulbs they replaced. I use them in our 5 outside garage lights where they are near perfect and run dusk til dawn. I use one in my office just a background light to leave on 24/7. On the boat, I have a 110v over the chart table light that is my favorite for reading and sitting at the desk staying cool … and consuming minimal amps is a plus. Still the many 12 volt DC only lights are more efficient in the long run rather than running off the inverter. 
We recently replace our old Kitchenaid refrigerator with a new Samsung frig and before sending the old to the recycling heap, I took the LED bulbs that I replaced out of it noting one wasn't working. Before tossing, I was curious what made this little guy my favorite and cut it apart to take a look (above). Nothing special … but I would buy them again IF I could find this exact ceramic based bulb.