Posted By RichC on March 24, 2016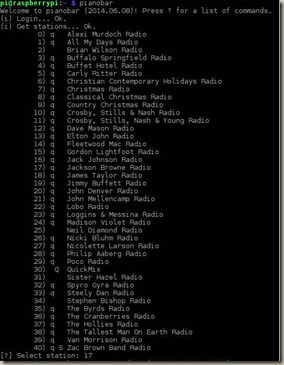 Once one moves away from the Windows, Mac, iOS and Android operating systems and begins to use home grown programs available on Linux, you'd be amazed in the few that standout and are used everyday. They aren't always easy to set up or even use, but offer great features not found in programs that tie your hands.
One such application on my Raspberry Pi is Pianobar. It is a command line interface that plays "your" personalized Pandora radio stations. The Internet connected Pi on a home network can be accessed using a command line tool on any device. For example, stations can be controlled (and modified) from a smartphone or tabloid so you can run the Raspberry Pi "headless" and plugged into your home audio. Mine is currently running in the office, but eventually will provide both security (camera) and Pandora using Pianobar in my garage shop.
Remembering a few "commercial free" song queuing up at the moment based on my favorite Jackson Browne station … like the very popular 1977 Rumours album from Fleetwood Mac.
| | |
| --- | --- |
| | Go Your Own Way | Fleetwood Mac – 1977 |