Posted By RichC on September 11, 2016
A WSJ article posted about a year ago listed 11 books recommended by legendary investor Warren Buffett … interesting choices. Some are expected, others surprising.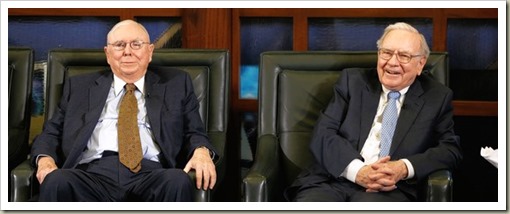 The Intelligent Investor, by Benjamin Graham. Of this classic tome on value investing, Mr. Buffett once wrote: "Picking up that book was one of the luckiest moments in my life." After reading it, Mr. Buffett enrolled in Columbia University so he could take classes from Mr. Graham, and later went on to work for him. Even now, when asked a question about his approach to investing, Mr. Buffett is liable to cite specific chapters from the book. Advanced readers can move on to Security Analysis, by Mr. Graham and his colleague David Dodd, a much longer opus upon which The Intelligent Investor is based.

Common Stocks and Uncommon Profits, by Philip A. Fisher. Though he wasn't as widely known to the investing public in his lifetime, Mr. Fisher ranks right up with Messrs. Graham, Dodd and Buffett in the pantheon of value investors. Mr. Buffett long ago said he was so impressed by this book that he made a special effort to go meet Mr. Fisher, and Mr. Buffett's biographer, Alice Schroeder, credits Mr. Fisher with helping evolve Mr. Buffett's investing approach. In 2013, Mr. Buffett told shareholders that this book "ranks behind only The Intelligent Investor and the 1940 edition of Security Analysis in the all-time-best list for the serious investor."

Business Adventures: Twelve Classic Tales from the World of Wall Street, by John Brooks. Not long after Microsoft co-founderBill Gates first met Mr. Buffett back in 1991, Mr Gates asked the Oracle of Omaha to recommend his favorite book about business. As Mr. Gates recounted in the Journal last year, Mr. Buffett "didn't miss a beat" before naming this tome, a collection of New Yorker articles from the 1960s, and promised to send Mr. Gates his personal copy. Mr. Gates, now a member of Berkshire's board, says it's the best business book he's ever read, lists Mr. Brooks as his favorite business writer… and admits that he still has Mr. Buffett's copy.

Where Are the Customers' Yachts?, by Fred Schwed. Another decades-old classic, this book uses humor to pierce some of the pretensions of Wall Street. The title comes from the story of a visitor to New York who was admiring all the nice boats in the harbor, and was told that they belonged to Wall Street bankers. He naively asked where the bankers' clients kept their boats. The answer: They couldn't afford them. Mr. Buffett once called it "the funniest book ever written about investing," and said it "lightly delivers many truly important messages on the subject."

Essays in Persuasion, by John Maynard Keynes. Mr. Buffett has flagged this collection of writings from the noted economist both for the importance of its ideas and the clear way they're presented. The essays, written from 1919 to 1931, touch on a wide variety of topics, including inflation, the gold standard, Russia and Germany, and the possibilities of economic growth. While Mr. Keynes is now known–and in some quarters, vilified–for his work as an economist, he also devoted a fair amount of thought to stock picking. Mr. Bufett has deemed him "brilliant" at both callings. "Reading Keynes will make you smarter about securities and markets," he told Outstanding Investor Digest in 1989. "I'm not sure reading most economists would do the same."

The Little Book of Common Sense Investing, by Jack Bogle. Mr. Buffett has heaped accolades on a few books from Mr. Bogle over the years, but this was the most recent to earn his praise, as Mr. Buffett gave it a shout-out just a few weeks ago. Mr. Bogle is the founder of the Vanguard Group and creator of the world's first index mutual fund, and while this slim volume certainly spends time extolling the virtues of index investing, it also explains why tangible business realities—like dividend yields and earnings growth—are more important than market expectations. For the record, Mr. Buffett himself has frequently said most investors are better off buying low-cost index funds.

Poor Charlie's Almanack: The Wit and Wisdom of Charles T. Munger, edited by Peter Kaufman. Mr. Buffett has steered the helm at Berkshire for the past 50 years, and alongside him for the whole ride has been Charlie Munger, his vice chairman. Mr. Buffett hasn't been shy about attributing much of Berkshire's success to his right-hand man–in no small part for saying no to some of Mr. Buffett's stupider ideas. Mr. Munger is a deep thinker on human behavior—and human frailties—and has spoken often about how investors can shoot themselves in the foot. This book collects Mr. Munger's speeches and other writings in an informal anthology. "You will never find a book with more useful ideas," Mr. Buffett once said. But while Berkshire's chairman is known for his folksy demeanor, Berkshire's vice chairman can be somewhat more scathing, as evidenced by his supposed reply to someone who asked him what he should do if he didn't enjoy the book. "No problem," Mr. Munger is said to have answered. "Just give it to someone more intelligent."

The Most Important Thing: Uncommon Sense for the Thoughtful Investor, by Howard Marks. As a reviewer at Barron's noted in 2011, Oak Tree Capital Chairman Howard Marks planned to wait until he retired to write this book, but Mr. Buffett, a fan of Marks' famous client memos, offered to contribute a dust-jacket blurb if he would speed up his publishing timetable. With that inducement, Mr. Marks produced this work, which explains the keys to successful investing and the pitfalls that can destroy capital. It borrows from the memos that Mr. Buffett likes so much.

The Outsiders, by William Thorndike Jr. A book that has continued to gain prominent followers in the years since Mr. Buffett mentioned it in his 2012 annual letter, Mr. Thorndike makes the case that chief executives have no greater role than to determine how to spend their company's cash flow, whether reinvesting it in the business, spending it on acquisitions or returning it to shareholders. Those that do it best are like the best investors, he says: They buy low and sell high and earn massive shareholder returns over the long-run. Mr. Buffett called it "an outstanding book" and flagged a chapter about Tom Murphy, the longtime chairman of Capital Cities/ABC who's now a Berkshire board member. Mr. Buffett called Mr. Murphy "overall the best business manager I've ever met."

Dream Big, by Cristiane Correa. Originally published in Portuguese, this book earned praise from Mr. Buffett at last year's annual shareholder meeting–which prompted a run on then hard-to-find English-language print copies. It tells the story of the Brazilian trio behind 3G Capital, the private-equity firm that owns Anheuser-Busch InBev and has partnered with Berkshire on deals to acquire H.J. Heinz and Kraft Foods Group Inc. While Berkshire's partnerships with the firm are recent, Mr. Buffett's relationship with 3G's Jorge Paulo Lemann go back for years. "My friend – and now partner – Jorge Paulo and his team are among the best businessmen in the world," Mr. Buffett said. "He is a fantastic person and his story should be an inspiration to everybody, as it is for me."
A previous Buffett article has this list … some are the same but others different.