Posted By RichC on September 12, 2016
Unfortunately when one faces cancer, the outcome isn't always what we want. It is a terrible disease and one which we can only hope medical science will eventually cure … the sooner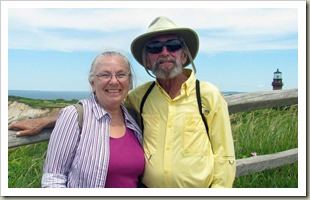 the better.
I've corresponded with Judy and Mark Handley for many years via email and Winlink (email via Amateur Radio) and we have always talked about meeting up (mentions on my blog). We hoped it would be sailing or anchoring in a beautiful cove, but probably would have been satisfied with a cup of coffee on either of our boats.
I knew when I read Judy's last few emails that Mark was struggling in his long battle, but the end came far sooner than expected. Perhaps that was a blessing as it may have minimized the suffering in the end? All I know is that I will miss "picking his brain" over boat issues as he was a wealth of knowledge and always willing to share. He will be missed, but by none more than Judy, his wife of 44 years. My deepest condolences to all of the Handley family.
Here is a "public post" from Judy … as always, beautifully written:
Life After Windbird, Day 30: What a Wonderful Life
Date: Sunday, September 11, 2016
Weather: Clear; High 75 degrees F
Location: At Home in The Studio #8, Falmouth, MA

What a wonderful life. Mark Daniel Handley was born on July 7, 1942 and tonight, September 11, 2016, he left us. Heather, Justin, and I spent our day with Mark and met with a fantastic Hospice representative. His name was Will and he was so informative and reassuring. On his recommendation we all gave Mark our permission to opt out of his long-standing battle with cancer. And also on his recommendation, Heather and Justin brought the grandchildren to see Granddad. There were some beautiful moments even though Granddad was not very responsive. Heather stayed with Mark while I went to have dinner at her house. When I returned Heather reported that Mark had been doing a bit of a travel through time blurting out periodically something like, "Get that boat part." He was a sailor to the end. I insisted that Heather and Justin go home with their families for the night. None of us thought he was close to the end. But sometime after 9 pm, his breathing changed and he wanted to hold both my hands. I practically sat on him in that tiny hospital bed for the next half-hour, telling him how much I love him and reminding him of how lucky I was to accompany him on his life's adventures. Mark was a man of dreams and he made those dreams come true. Lucky me that I got to tag along. A part of me is gone forever, but I will rebuild with what is left. Mark was my lover, my friend, and my partner in life for almost 44 years, minus seven days. We met on September 18, 1972. Four has always been my lucky number and these 44 years have been spectacular. Mark left behind so many wonderful memories as well as two very special children and their equally special spouses, and five fantastic grandchildren—The Fab Five. It really was a wonderful life. Thank you, Mark Handley. I will be with you forever.