Posted By RichC on November 6, 2016
As someone who politically grew up at a time when Ronald Reagan instilled optimism in America and in Americans, I am disgusted and embarrassed to to watch and vote for the "least worst" person running for president.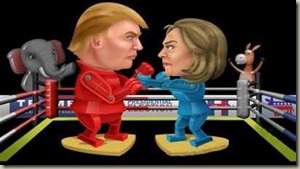 On this coming Tuesday, or for many mailing in absentee or early voting, we'll be doing just that … and we can only hope the next president does a better job of unifying our country than the man who has served the last 8 years, President Obama. For those needing a refresher on each of our presidential candidates or maybe just wanting to share information that is unbiased toward either candidate, I'll include two recent Wall Street Journal pieces that I'm sure neither party really want voters to see. Neither gives me a great deal of confidence that the next 4 years will be without turmoil or be unifying. All I'm hoping for at this point is for conditions that stimulate economic growth and better opportunity … and keeping our country and our fellow citizens secure. Anything beyond that will be a surprise bonus.
Americans go to the polls next week facing what millions believe is the worst presidential choice of their lifetimes. As we wrote after Donald Trump won the Indiana primary in May, the New Yorker and Hillary Clinton are both deeply flawed. But one of them will be the next President, so in the next two days we'll try to summarize the risks—and the fainter hopes—of each candidacy in turn.

Trump is political disruption. A broken Washington needs to be shaken up and refocused on the public good, and who better to do it than an outsider beholden to neither political party? If only that reform possibility didn't arrive as a flawed personality who has few convictions and knows little about the world.
The Costs of Clinton
Start with Mrs. Clinton because the costs of her Presidency are easier to see in advance. To wit, she would continue President Obama's progressive march to a French-style welfare and regulatory state. On nearly every domestic issue, she has embraced Mr. Obama's agenda and moved left from there.She wants higher taxes, more spending on entitlements that are already unaffordable, more subsidies and price controls in ObamaCare, more regulations on businesses of all kinds, more limits on political speech, more enforcement of liberal cultural values on schools and churches.The greatest cost of this would be more lost years of slow economic growth. The U.S. economy hasn't grown by 3% in any year since 2005, and the explanation from Mrs. Clinton's economic advisers is that America can't grow faster and inequality is a bigger problem in any case. More income redistribution is their patent medicine.

The Gamble of Trump
The best hope for a Trump Presidency is that he has aligned himself with enough sound policy impulses that he could liberate the U.S. economy to grow faster again. He would stop the crush of new regulation, restore a freer market for health insurance, unleash U.S. energy production, and reform the tax code. His default priority would be growth, which the U.S. desperately needs after a decade of progressive focus on income redistribution and the worst economic recovery in 70 years.Assuming Republicans hold Congress, the House GOP has already put many of these reforms in legislative language. Mr. Trump could adopt them as his own reform agenda and get a fast start on governing. With a GOP Senate he could fill Antonin Scalia's seat on the Supreme Court with someone from the fine list of candidates he has publicly released. For many voters, the future of the Court is by itself enough reason to support Mr. Trump.
But as we've seen with the rise of nativism and protectionism, the costs of slow growth are corrosive. Flat incomes lead to more social tension and political enmity. The fight to divide a smaller pie would get uglier in a country that was once accustomed to rising possibilities. Imagine the 2020 election after four more years of 1% growth.Some Republicans say Mrs. Clinton would be more willing to negotiate with them than Mr. Obama has been. That's a low bar, and during the 2016 campaign she hasn't thrown a single policy olive branch to Republicans. None. Her current agenda may reflect her real beliefs going back to her activist days before the failure of HillaryCare caused her to adopt some New Democratic coloration. In 2017 she would also have Senators Elizabeth Warren and Bernie Sanders pulling her to the left.Mrs. Clinton would also be less restrained by the courts. Mr. Obama has remade most of the federal appellate bench, and the Supreme Court is on the cusp. A Hillary victory means progressive judicial domination for a generation or more. This would mean more green lights for the abusive rule by regulation that has characterized Mr. Obama's second term—and little chance to block the likes of his immigration order or Clean Power Plan.
Mrs. Clinton's clearest advantage over Mr. Trump is on foreign policy, where she has shown more respect for America's role in maintaining global order. She has sometimes shown more hawkish instincts than Mr. Obama, but then she also embraced his worst mistakes: the reset with Russia that badly misjudged Vladimir Putin, the nuclear deal with Iran, the withdrawal from Iraq in 2011, and the abandonment of Libya after Europe and the U.S. toppled Moammar Gadhafi.Even if she wants to revive U.S. leadership abroad, however, there is the question of means. Her entitlement expansions and higher taxes would squeeze the economic growth and budget space needed to finance more defense spending. This is Western Europe on the installment plan.
Lurking behind all this, as we've seen these past two weeks, is the familiar pattern of scandal fed by her penchant for secrecy and political paranoia. As journalist Carl Bernstein has noted, she shares Richard Nixon's "obsession with enemies." She surrounds herself with henchmen like Sidney Blumenthal and David Brock, who feed her instinct to stonewall and attack.The most astonishing revelation of the 2016 campaign has been that neither she nor her husband learned anything from the ethical traumas of the 1990s. You would have thought they'd want to shed the legacy of the Lippo Group and the Lincoln-Bedroom-for-rent, but instead they built the same pay-to-play structure via the Clinton Foundation.Mrs. Clinton made the astounding decision to use a private email server for official business so she could duck federal records laws. But when that was discovered, rather than admit the mistake and release everything, she and her retinue continued to resist and deflect and deceive. By her behavior in the past year, Mrs. Clinton has ratified the worst things her critics say about her.
Some of our friends argue that Mrs. Clinton's corruption is tolerable because it is merely about gaining and maintaining political power. This understates how much the Clinton blending of public office with private gain erodes confidence in honest government. It feeds the leftist narrative that business is merely another arm of the state and thus reduces support for free markets.***
All of which means that if she does win on Tuesday, the manner of her victory would damage her ability to govern. Rather than win a policy mandate, she has chosen to destroy Mr. Trump personally. She would face a Congress that wants to investigate her from the first day and an electorate that is polarized and doesn't trust her. Her instinct would be to lean even more on the left for political support, making compromise with Republicans in Congress even more difficult.We're as optimistic as anyone about the resilience of American democracy, but four more years of aggressive progressive rule would more deeply entrench the federal Leviathan across ever more of the economy and civic life. The space for private business and nonpolitical mediating social institutions would shrink.The case for Mrs. Clinton over Donald Trump is that she is a familiar member of the elite and thus less of a jump into the unknown, especially on foreign policy. The case against her is everything we know about her political history.
Yet while this could be a 1980-like moment of economic renewal, Mr. Trump is no Ronald Reagan. The Gipper came to office with a coherent and firmly held world view formed by decades of reading and experience as a Governor. It isn't obvious that Mr. Trump reads anything at all. He absorbs what he knows through conversation and watching TV, and he has no consistent philosophy.
This makes it hard to predict how he would respond to the shocks and surprises that buffet any President. His firmest policy conviction seems to be that trade is a zero-sum game and that America is losing from global commerce. But if he follows through on his vow to withdraw from trade pacts, impose tariffs on imports and punish U.S. companies that invest abroad, he could cause a recession. The main economic battle in a Trump Administration would be between his pro-growth domestic reforms and his anti-growth trade policy.
***
The strongest argument against Mr. Trump, as Hillary Clinton has recognized, concerns his temperament and political character. His politics is almost entirely personal, not ideological. He overreacts to criticism and luxuriates in personal feuds.President Obama's greatest failure has been to govern in a deliberately polarizing fashion, and Mr. Trump's response has been to campaign the same way. If the businessman loses a race that Republicans should win this year, one reason will be that his often harsh rhetoric has repelled women, minorities and younger voters. He ignores or twists inconvenient facts, and even when he has a good point his exaggerations make it harder to persuade the public. Yet a President needs the power to persuade.
The least convincing Never Trump argument is that he would rampage through government as an authoritarian. That ignores the checks and balances in Washington that constrain GOP Presidents in particular. If Mr. Trump wins, the media would awaken from their Obama-era slumbers and dog his Administration with a vengeance. The permanent bureaucracy would resist his political appointees, working with the media to build public opposition.The more realistic concern, especially for conservatives, is that Mr. Trump would be as haphazard in office as he has been as a candidate and thus fail to change Washington as he has promised. Mr. Trump would start out with more than half the country disliking him, and most of his advisers lack government experience. Too many blunders or an early recession could cause voters to sweep out the GOP Congress in 2018, setting up a return to an all-progressive government in 2020.
Another risk comes from the negative impulses on the political right that Mr. Trump's meanest rhetoric has awakened. Populism has its uses, and the media stereotypes of Mr. Trump's supporters don't capture their variety and general goodwill. But populism becomes dangerous when it is rooted too much in ethnicity or class.
Mr. Trump's Breitbart posse has a vendetta against Republicans on Capitol Hill and is motivated by brooding resentments that too often veer into white-identity politics. If Mr. Trump indulged these sentiments as President, he would further polarize the country and alienate non-whites for a generation.Then there is the biggest Trump gamble of all—foreign and security policy. The good news is that Mr. Trump wants to rebuild U.S. defenses that have eroded on Mr. Obama's watch. He would be more candid about, and more aggressive against, the Islamist terror threat.Yet the irony is that Mr. Trump shares Mr. Obama's desire to have America retreat from world leadership. Beyond "bombing the hell out of ISIS" and "taking the oil," it isn't clear the Republican has any idea what to do in the Middle East. As a rookie in world affairs, he would be unusually dependent on his advisers—if he listened to them.His seeming bromance with Vladimir Putin is especially troubling given the Russian's aggression in the Middle East, Europe and cyberspace. Presidents Bush and Obama also underestimated Mr. Putin's revanchism, but Mr. Trump has been all too nonchalant as Russia presses ahead. His instincts to retreat to a Fortress America could invite more aggression from Russia, China and Iran.
The Wall Street Journal hasn't endorsed a presidential candidate since 1928, and if we didn't endorse Ronald Reagan we aren't about to revive the practice for Mrs. Clinton or Mr. Trump. Yet one of them will be the next President. The choice comes down to the very high if relatively predictable costs of four more years of brute progressive government under Hillary Clinton versus a gamble on the political unknown of Donald Trump.