Posted By RichC on November 5, 2016
While I continue to struggle with the "do I need a new notebook computer" question, I continue to frustrate myself with the old 2007 Gateway, iMac desktop and iPad? It would really be nice to have a fast, lightweight traveling notebook computer (with more than 30 minutes of battery life!), but have found that a full sized notebook is not needed much any more. It would be an easy call if not for just how comfortable I've become with the iPad Air2 and BrydgeKeyboard … but even that is starting to seem a little old in the tooth?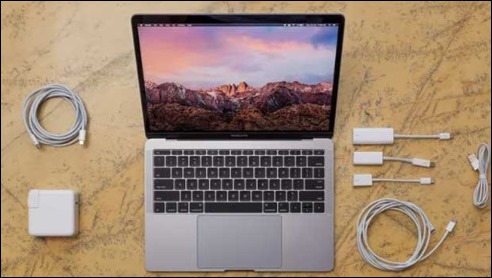 Perhaps my biggest GRIPE and concern is that even at the low end, the new Apple MacBook Pros are now really expensive. In looking at spending $1500 for a 13" model not to mention the necessary software or one with the storage or the new TouchBar, I may just continue to wait … or look for a discounted MacBook Air at half the price? 
Then there is "GRIPE 2" — a required dongle / adapter for everything. There are many existing items that "currently" don't need USB-C / Thunderbolt 3 adapters. The new MacBook Pros don't even have a slot for SD cards, USB Flash storage and run of the mill external hard drives. Other connectivity to monitors and TV using HDMI, USB, VGA or even Apple's Thunderbolt 2 or Lightning requires an adapter cables. So much for traveling light? At any rate, Apple has heard the complaining and is lowering prices.
"We recognize that many users, especially pros, rely on legacy connectors to get work done today and they face a transition. We want to help them move to the latest technology and peripherals, as well as accelerate the growth of this new ecosystem. Through the end of the year, we are reducing prices on all USB-C and Thunderbolt 3 peripherals we sell, as well as the prices on Apple's USB-C adapters and cables."
The final "GRIPE" which really doesn't impact me, is that the New MacBook Pro no longer uses the much loved Apple MagSafe power connection. It was a very nice feature and likely saved more than a few MacBook Pros from untimely deaths.
Still … I'm tempted to throw commonsense to the wind and order … and then wait 4-5 weeks for delivery!