Posted By RichC on February 20, 2017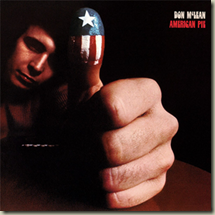 There's probably not a more iconic early 1970's American song than Don McLean's American Pie … I'm shocked no to have posted about it before?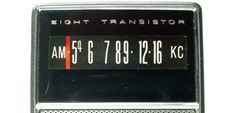 If you were a kid growing up with music coming from a AM transistor radio when the popular song came on, you knew that the next 8 minutes would be commercial free (because the song was so long). The message was contemplated by 70s' teens about as thoroughly as 60s' teens did for many of The Beatles' songs. McLean kept the mystery alive as well since he didn't offer any explanation back in the day besides "expecting that an artist's work should stand by itself."
| | |
| --- | --- |
| | American Pie (8:32) | Don McLean – 1971 |
As Bob McParland said, "the optimism and hopefulness of the 1960s was giving way to the nihilism and hedonism of the 1970s," although a more recent summary by Allen MacCannell will probably help fill in the unknown:
February bad news = February 3, 1959 Buddy Holly plane crash
Chevy to the Levy = Famous Chevrolet TV commercial or the 1950s (Dinah Shore)
Book of Love = Famous fifties song – Miss Pie turns out to be an illusion
10 years = 1960s
King = Elvis
Jester = Dylan
Quartet = Beatles (of course)
Helter Skelter & Football Game = Vietnam war protests in the summer of 1967
Marching Band = Most of the public that wanted the war to continue
8 Miles High and falling fast = Byrds song "8 Miles High" was banned because of its implications of drug use on a transatlantic flight, group split up
All in One Place = Altamount Concert with drug deaths and stabbings
Lost in Space = Hippie movement died that day (also reference to TV series)
No Angel Born in Hell = Hell's Angels guarded the stage as Mick Jagger sang. They begged him to stop the concert, but the Rolling Stones continued like they were possessed, all the violence and overdosing damaging the reputation of the Hippie movement especially amongst its own members.
Song describes the disillusioning end of both the 1950s and then the 1960s. Oh yes, Janis Joplin "smiled and turned away" by committing suicide instead of bringing happiness to Americans in the 1970s.
SongFacts.com has a more lengthy analysis with some of it below …
—
According to McLean (as posted on his website), this song was originally inspired by the death of Buddy Holly. "The Day The Music Died" is February 3, 1959, when Holly, Ritchie Valens, and The Big Bopper were killed in a plane crash after a concert. McLean wrote the song from his memories of the event ("Dedicated to Buddy Holly" was printed on the back of the album cover).

The Beatles Sgt. Pepper album was also a huge influence, and McLean has said in numerous interviews that the song represented the turn from innocence of the '50s to the darker, more volatile times of the '60s – both in music and politics.

McLean was a 13-year-old paperboy in New Rochelle, New York when Holly died. He learned about the plane crash when he cut into his stack of papers and saw the lead story.
Talking about how he composed this song when he was a guest on the UK show Songbook, McLean explained: "For some reason I wanted to write a big song about America and about politics, but I wanted to do it in a different way. As I was fiddling around, I started singing this thing about the Buddy Holly crash, the thing that came out (singing), 'Long, long time ago, I can still remember how that music used to make me smile.'

I thought, Whoa, what's that? And then the day the music died, it just came out. And I said, Oh, that is such a great idea. And so that's all I had. And then I thought, I can't have another slow song on this record. I've got to speed this up. I came up with this chorus, crazy chorus. And then one time about a month later I just woke up and wrote the other five verses. Because I realized what it was, I knew what I had. And basically, all I had to do was speed up the slow verse with the chorus and then slow down the last verse so it was like the first verse, and then tell the story, which was a dream. It is from all these fantasies, all these memories that I made personal. Buddy Holly's death to me was a personal tragedy. As a child, a 15-year-old, I had no idea that nobody else felt that way much. I mean, I went to school and mentioned it and they said, 'So what?' So I carried this yearning and longing, if you will, this weird sadness that would overtake me when I would look at this album, The Buddy Holly Story, because that was my last Buddy record before he passed away."