Posted By RichC on May 15, 2017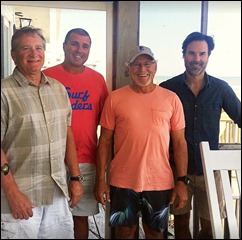 My friend Jeff and I were reflecting on my bachelor party/camping trip to North and South Carolina in May of 1982 just as a photo appeared of Jimmy Buffett and friends hanging out on Folly Beach, SC. Jeff was sharing a couple of Buffett songs from the License to Chill album while we were reminiscing. As a non-regular blog reader, I told him "like Seinfeld episodes, there's a blog post about that!"


 
Since it will be Monday, here's a song from that 2004 album.
  Coast of Carolina
Jimmy Buffett – 2004