Posted By RichC on August 29, 2017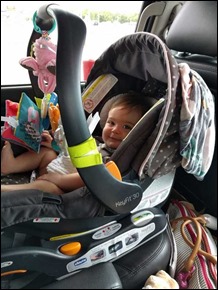 Finally … I'm getting around to posting a few photos from our 4 day weekend here in Cincinnati with Annalyn (Katelyn and Drew too)! We had a near perfect weekend weather-wise, unlike those in east Texas getting drenched and flooded by Hurricane Harvey.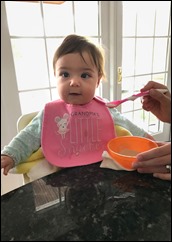 Part of our "swimming weekend" was getting Annalyn use to the pool and part was getting a U-Haul loaded up with furniture and items from my mom and dad's house. Drew and I chuckled at him wondering if a smaller trailer would suffice … that answer was obvious once we staged everything in the garage – a big NO. We used ever bit of the 6 x 12 foot tandem axle trailer and the back of his dad's Escalade too.
The new high chair worked perfectly and our happy little Annalyn was all that a grandparent could hope for. She was huggable and loved sitting, playing and reading with me (or grandma… but I'm her favorite — cough, cough — but don't ask Brenda!)
We also sent a seedling home with them … calling it Annalyn's Mighty Oak! It was an acorn that seeded itself on the mound under one of the two oak seedlings I brought for the kids when we moved from Hudson, Ohio. Fitting … Katelyn's Oak tree created a new "oak tree" for Annalyn — we'll see if it will grow in Perrysburg?
Finally … the big Volkswagen news is that Katelyn bought a 2018 VW Tiguan — the new larger model. Unfortunately because they were planning to pull the trailer, she couldn't drive it down. A photo will have to work for now.
Also, Taylor came over after his big trip (more to come on that later) and sat around the fireplace filling us in on his trip to Washington state, Victoria BC and Vancouver Island after Annalyn went to bed. We joked that since Annalyn doesn't like missing out that she suffers from Taylor's FoMO (Fear Of Missing Out) disease (below is Taylor's firs day back to work after his strenuous vacation and red-eye flight back to Cincinnati from Seattle (photo below of sunset in the Seattle Airport).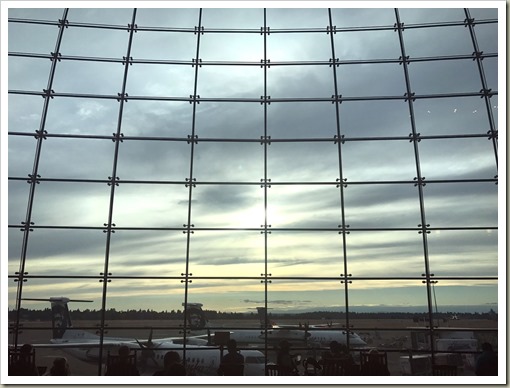 He sent a message from work the morning after his "red-eye flight" saying he was "on the struggle-bus" (barely making it); the comment gave us all a good laugh.