Posted By RichC on June 1, 2020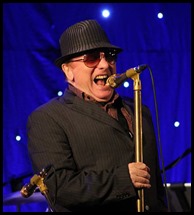 The older I get, the more I gravitate to the music of Sir George Ivan "Van" Morrison. I've posted his songs a few times before on Music Monday before and often think about the comment that surgeons listen to "Into the Mystic" while in the operating room – kind of interesting, eh?
But perhaps its the gentle-mood his music that I enjoy as it relaxes my mind. I might even have something to do with the long stretches of repetitive soothing tones and his unusual voice that quiets the sole?
On that note, a song that comes to mind is "So Quiet In Here" from his 1991 Enlightenment album and it plays on for over 6 minutes.

| | |
| --- | --- |
| | So Quiet In Here – Van Morrison | 1991 |
Lyrics:

Foghorns blowing in the night
Salt sea air in the morning breeze
Driving cars all along the coastline
This must be what it's all about
Oh this must be what it's all about
This must be what paradise is like
So quiet in here, so peaceful in here
So quiet in here, so peaceful in here

The warm look of radiance on your face
And your heart beating close to mine
And the evening fading in the candle glow
This must be what it's all about
Oh this must be what it's all about
This must be what paradise is like
So quiet in here. so peaceful in here
So quiet in here, yeah, so peaceful in here

All my struggling in the world
And so many dreams that don't come true
Step back, put it all away
It don't matter, it don't matter anymore
Oh this must be what paradise is like
This must be what paradise is like
It's so quiet in here, so peaceful in here
It's so quiet in here, so peaceful in here

A glass of wine with some friends
Talking into the wee hours of the dawn
Sit back and relax your mind
This must be, this must be, what it's all about
This must be what paradise is like
Oh this must be what paradise is like
So quiet in here, so peaceful in here
So quiet in here, so peaceful in here

Big ships out in the night
And we're floating across the waves
Sailing for some other shore
Where we can be what we wanna be
Oh this must be what paradise is like
This must be what paradise is like
Baby it's so quiet in here, so peaceful in here
So quiet in here, so peaceful in here
So quiet in here, so peaceful in here
So quiet in here, you can hear, it's so quiet