Posted By RichC on August 14, 2017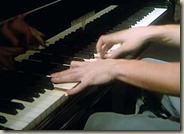 It is hard not to enjoy the piano playing of Bruce Hornsby or his "best known song" The Way It Is from 1986 which highlights many of the same problem we see today in America: racism, homelessness, and economic struggles.
| | |
| --- | --- |
| | The Way It Is | Bruce Hornsby – 1986 |
I can't help but think of the beatings and loss of life in Charlottesville Virginia … senseless hatred.
It continues year after year and eventually boils over and reminds us that not only are there outside enemies to America's desire for freedom, equality for all and peace …but that we have plenty of dissension within our own borders.
Unfortunately we live in a broken world and that is unlikely to change (although we do are best to love our neighbor). Thankfully there is hope … but it does not lie in our own doing and is not on this earth. For those of us who are Christians, we set our sights on eternity and evangelize and share the Gospel to all with an open heart and mind.

For those wanting to learn more, check out GroupBibleStudy.com … a worthy project that my good friend Keith Thomas and I have been building out online now for years. A fantastic resource for all wanting to study the Bible (translations steadily being added in Arabic, Chinese, Hindi and Indonesian).