Posted By RichC on October 9, 2017
You're getting old when you can say that you were listening to Jimmy Buffett music when only on vinyl, although it could have been on 8-track or cassette tape? Thankfully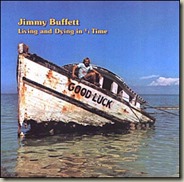 I was not listening to his song The Wino and I Know on 78s as the lyrics in the song goes (a vinyl record format that reference the R78 PM speed setting on a gramophone or phonograph record player. aka: Turntable).
He's got seventy-eights by Hank Snow …
That said, the album Jimmy Buffett: Living and Dying in 3/4 Time was one of the first in my pile of vinyl that I preserved and self-taped to cassette for the car and daily play, although I eventually repurchase in CD (a medium that is disappearing as well). Now I do own digital versions and am not sure I'll even bother with anything newer in AAC or MP3? Pandora, Spotify, Apple or my current favorite Amazon Prime Music are just too easy … but since it is MusicMonday, here's a sample from Jimmy's Key West phase.
| | |
| --- | --- |
| | The Wino and I Know | Jimmy Buffett: Living and Dying in 3/4 Time – 1974 |
Jimmy Buffett's Album discography (below):
—
Down to Earth (1970)
A White Sport Coat and a Pink Crustacean (1973)
Living and Dying in 3/4 Time (1974)
A1A (1974)
Havana Daydreamin' (1976)
High Cumberland Jubilee (1976)
Changes in Latitudes, Changes in Attitudes (1977)
Son of a Son of a Sailor (1978)
Volcano (1979)
Coconut Telegraph (1981)
Somewhere over China (1982)
One Particular Harbour (1983)
Riddles in the Sand (1984)
Last Mango in Paris (1985)
Floridays (1986)
Hot Water (1988)
Off to See the Lizard (1989)
Fruitcakes (1994)
Barometer Soup (1995)
Banana Wind (1996)
Christmas Island (1996)
Don't Stop the Carnival (1998)
Beach House on the Moon (1999)
Far Side of the World (2002)
License to Chill (2004)
Take the Weather with You (2006)
Buffet Hotel (2009)
Songs from St. Somewhere (2013)
'Tis the SeaSon (2016)