Posted By RichC on March 4, 2018
It is hard to believe a full year has passed and that "my" little girl's daughter is already 1 year old. We've been looking forward to celebrating together and I've been tinkering with a requested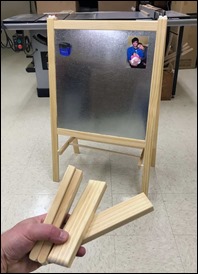 gift idea – a magnetic board.
Katelyn asked if I could make something that Annalyn could stick her magnetic symbols, letters and numbers on … so I started with the idea of framing some kind of steel sheet, but wasn't really happy with a framed board like I made for a set of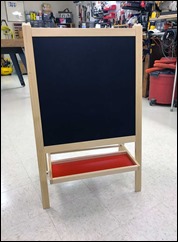 walnut building blocks (Christmas present 2017).
Instead I opted to modify an IKEA easel by using a little West System epoxy to attached a galvanized metal sheet to the whiteboard area AND cut the legs down to size for a 1 to 2 year old (Brenda also bought some chalk and roll of paper for the chalkboard side). It turned out better than I thought and now that it is shorter, it is much sturdier!  (click for larger photos)
EDIT 3/11/2018: Finally getting around to archiving at least the "birthday cake" video of Annalyn and her first cake … so will add it to this post for posterity.
CLICK to play …
Before heading home we also enjoyed a Sunday afternoon lunch at a local
Hibachi Restaurant – all fun except for noise & flames frightening Annalyn!
EDIT: One more photo to mark the moment for the archive. 🙂