Posted By RichC on March 2, 2018
Our daughter and son-in-law gave us an Amazon Echo Dot for Christmas this past year. I have thoroughly enjoyed playing with it and have connected it to enough lights,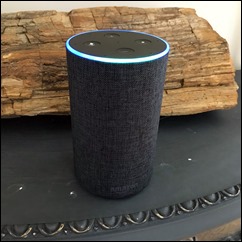 plugs, thermostats and kitchen television to make me want to add the full sized Echo. I'm not sure Brenda has even noticed that it grew?
The smaller Echo Dot has moved into our library/music room and now along with multi-room music is connected by 3.5mm wire to the existing stereo system which offers excellent voice controlled music throughout the house. I has taken me a few days to figure out the voice commands, but with the "everywhere" group not set up, I can add the higher quality speaker on the full sized Echo that works well from the kitchen. So far I couldn't be happier with the feature and how well the microphones handoff to each other and seamlessly work together.
I'm looking forward to Amazon's continuing to improve their voice controlled devices and laugh every time I learn something new: "Alexa, sing a barbershop quartet."
| | |
| --- | --- |
| | "Alexa, sing a barbershop quartet" |
By the way, guess who's birthday it is this coming weekend? Yup, Annalyn will be 1 year old and is SOOOOOO BIG !!! (ani.gif below)