Posted By RichC on April 24, 2018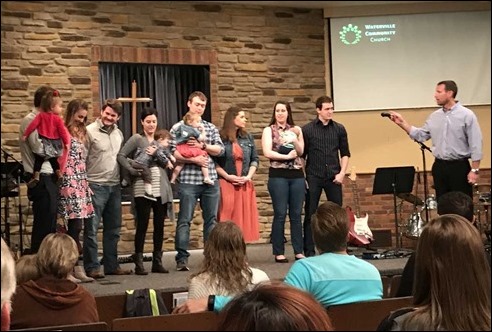 The four grandparents (BR & BR — Barb, Randy, Brenda and Rich) enjoyed being with Katelyn and Drew as they dedicated Annalyn at church this past Sunday morning – April 22, 2018. Knowing that they have publically vowed to raise their daughter with the help of their church family at Waterville Community Church in the teaching of Jesus is comforting. The influences in our world that counter the Bible are stronger than ever and knowing Annalyn will be exposed to the Scriptures and being equipped with the Armor of God (Ephesians 6:10-18) is comforting to us. We are so proud of Katelyn and Drew, their maturity and the loving parents they have become. May God continue
to bless and protect Annalyn and her parents;  help her grandparents reinforce living lives that are Christian examples for them. We look forward to the day Annalyn chooses to accept Jesus as her Savior. 
This was the first time Brenda and I visited Katelyn and Drew's church since they moved back to Ohio. We enjoyed meeting Pastor Mike O'Shea who has been leading WCC for the past 8 years. We smiled together knowing his background with Young Life and our being a weekly host home throughout our son's high school years. It is an excellent organization and often a needed balance to the outside influences for teenagers in high school.
Finally, be strong in the Lord and in his mighty power. Put on the full armor of God, so that you can take your stand against the devil's schemes. For our struggle is not against flesh and blood, but against the rulers, against the authorities, against the powers of this dark world and against the spiritual forces of evil in the heavenly realms. Therefore put on the full armor of God, so that when the day of evil comes, you may be able to stand your ground, and after you have done everything, to stand. Stand firm then, with the belt of truth buckled around your waist, with the breastplate of righteousness in place, and with your feet fitted with the readiness that comes from the gospel of peace.  In addition to all this, take up the shield of faith, with which you can extinguish all the flaming arrows of the evil one.  Take the helmet of salvation and the sword of the Spirit, which is the word of God.

— Ephesians 6:10-18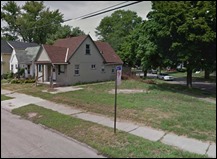 When glancing at the WCC history, it is shocking as to what a small world we live in. My parents (Katelyn's grandparents) were both born and grew up in Toledo — although haven't lived there since the 1960s. As mentioned, the church was founded in South Toledo before moving to Waterville. The original church was only two blocks from where my dad grew up and where his parents owned and ran a gas station. (the corner of Prouty Ave and Spencer St – current photo of corner to left). Haughton Elevator (bought by Schindler Elevator) was across the street from their house (old history photos below now a field of solar panels) and was was the company where my dad started working after returning from Korea and then the now closed Sidney, Ohio electrical division is from where he retired after 44 years with the combined company.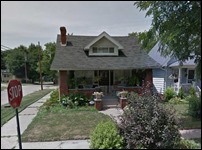 My mom house was relatively close as well, about 10 blocks away at the corner of Wright Ave and Nelson (photo right – 2011 Google Streetview) … and even seeing Swan Creek where we would play and my mom's elementary school (Arlington Elementary) on the map triggered some fond memories as we visited often until they passed away in 1969 and 1970.
This probably means very little to those who grew up and remained in one city their whole life, but it triggered fond memories for me.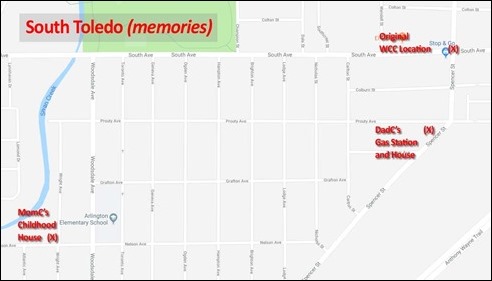 Click for larger map or a Google Map