Posted By RichC on May 30, 2018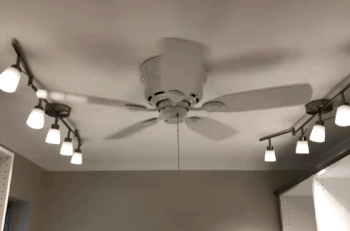 Adding a few more gadgets to the condo update this weekend as we are one step closer to getting it looking as if we'll have a kitchen again … or at least a livable abode for the winter renters (or next owner). Hopefully the few extra upgrades I have opted to add will not go unappreciated. The new ceiling fan is in and does a great job of quietly circulation air in the kitchen … and the Next Thermostat should help me keep an eye on the heat, humidity and electric bill when we are not able to check on things.
I've also installed the Samsung Smartthings hub that Katelyn and Drew gave me for my birthday … so far the motion detector and programable "smart" outlet works perfectly.