Posted By RichC on July 22, 2018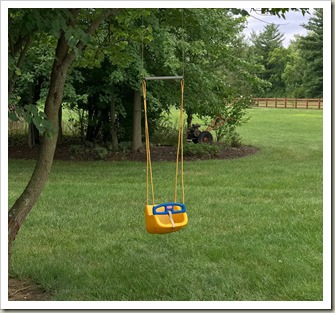 I had fun digging out Katelyn and Taylor's old Little Tikes swing that is both made in and  was used in Hudson, Ohio when we lived there … but the frustration part was having bought, then lost, a stainless steel nut for the cable clamp used in my set-up to attach the extension to the tree branch. After an hour of searching with LED headlamp on my hands and knees I gave up. How hard is a little shiny nut to find???
Now the only thing missing is "test pilot" Annalyn! Can't wait until she is down here again.
EDIT: After a FaceTime with Annalyn and showing her the swing with her mom's old "Skating Bunny," I sent her this photo.

I don't feel too bad though since they all had a good time with Grandma and Grandpa Oostra (and aunts and uncles?) in Michigan this past weekend (below is a "going for a hike" photo).