Posted By RichC on September 30, 2018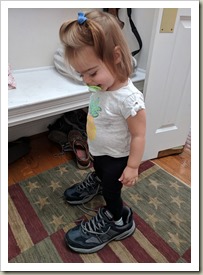 As "warned," here's a follow up post to archive the special time Brenda and I had with Annalyn this past week. We have been looking forward to having our little 1-1/2 year old granddaughter stay at our house without mom and dad for a while now and had a wonderful time. She may have not been at 100% health wise, but that did not deter her from having fun and playing with her Bompa … every waking hour.

Time alone with Annalyn aside (shared yesterday), Katelyn joined on Friday afternoon and we enjoyed time with her too. Before they headed back home, I took a short video of the two of them playing with a "Giving Doll" that one of my customers gave me back in 2006 after connecting them with Romanian Handicapped Ministries. Wonderful ladies with a great heart for sharing love with children.