Posted By RichC on September 29, 2018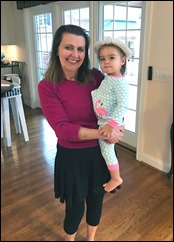 Brenda and I had a few days this past week to enjoy Annalyn "alone" at our house for the first time. It is different than babysitting just a day or so at a time at Katelyn and Drew's house and was a bit more challenging considering she was not feeling 100% and of course could have missed her mom and dad. Thankfully, neither was really a problem. For our part, dealing with it took a few extra diaper changes, A&D cream a little thicker than normal, some Tylenol and extra time with her during the night … but our little trooper continued to have fun each day … especially with her Bompa.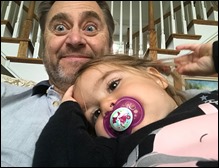 So far, we have a special bond that I hope continues forever!
I met Katelyn at close to a halfway point in Sidney, OH which was my parents' hometown. It was a good place for a "car ride break" especially since there as a nice rest area with a playground which was across from the cemetery where my parents are buried; it also gave Katelyn and me an opportunity to visit their gravesite (but of course I forgot flowers). Annalyn had a snack, got a fresh diaper and I was able to figure out one of these new-fangled car seats in order to move her to my car – yes they have changed over 30 years! After a long break, Annalyn and I headed toward Cincinnati and Katelyn back to Perrysburg – she could not have been better on the drive home (whew). Drew relayed to me he was already missing his "munchkin."
Once home, Annalyn adopted the toothbrushing stool as her desk and as a place to sip her water … who knew this would be the stool's purpose? (no complaints from me!)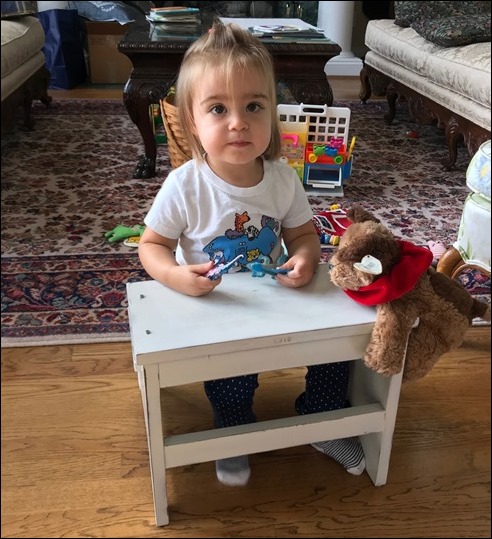 Of course, her favorite thing was to swing … a never-ending "MORE" request continue to come from her. If the weather would have been warmer (and dryer), I'm sure we would have been outside more. (FYI, don't bother checking the blog tomorrow, as I'll likely archive a few more thoughts, photos and video from our time with Annalyn.)