Posted By RichC on September 14, 2018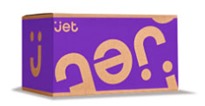 In recent years, we've grown accustom to DOTcom retail companies delivering on their promises. Thanks to Amazon and their outstanding efficiency and reliable fulfillment and delivery services. Perhaps I've forgotten that not all online retailers live up to what we now take for granted?
One expects that when a product is listed on a major retailer's website and an item is checked out, that eventually you will receive your purchase. In my case my credit card was recorded and delivery date issued, be it slower delivery time than I would have wanted (ordered 9/4 with delivery date of 9/12).

The order was "in process" for a week according to the order tracking page of Jet.com (a Walmart owned company) as of 9/12 — the delivery date, yet no delivery. The next email from Jet was to inform me that my order was canceled … I read this on 9/13 after the delivery date. Huh???  If there was a problem with this order, one would think they could have update me a week prior … or at minimum explain the "canceled order" or give me options? Nope … just a matter of fact subject line "Your Jet order has been canceled." Rude … offensive … very frustrating … and possibly illegal since the item is still available on the Jet.com site with a higher price. (a phone conversation with a "Jethead" wasn't able to explain either and said "I understand how this can be seen as false advertising.")
Beside lodging a complaint, emailing feedback and including Walmart corporate on the practice … I'll post my gripe here on my blog. Sort of wish there was consumer watchdog with teeth to be able to go after this kind of chicanery (did I mention the item is still available on their site … at a higher price? Grr!)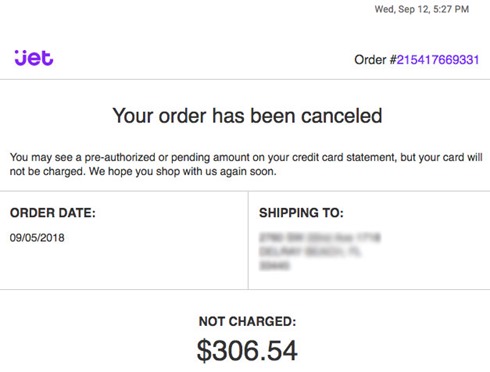 EDIT: Perhaps I have not learned my lesson just yet, but after reaching out to Jet.com by phone, email and Twitter … and the customer service agent via TwitterDM want to make the order right. I was encouraged to place the order again, something I hope I don't regret. We'll see how this plays out, but perhaps we all make mistakes (my company included) and deserve a chance to make it right?