Posted By RichC on October 27, 2018
All good things come to an end … but Brenda and I sure had a great time in Delray Beach FL with Katelyn, Drew and Annalyn.
It was our first vacation with Annalyn and we enjoyed being with her … and Katelyn and Drew … for the week. Our weather could not have been better as the sun was out most of the time and ocean was nice and warm.
We decided half days on the beach were enough and slipped in a few other things either in the morning or over the lunch hour.
The week started with a visit to the Morikami Museum and Japanese Gardens which were very beautiful and inviting. A Japanese lunch at their cafe was tasty. Going to downtown Delray was nice and Annalyn enjoyed the park with swings and slides … as well as watching the boat go under the lifted bridge.
The time at the condo was fun too as Annalyn entertained me with mixing and making food … even "real" mini pizzas!
A few walks around the complex to see the giant Banyon tree and bananas growing right outside of our back porch … I regret not picking them.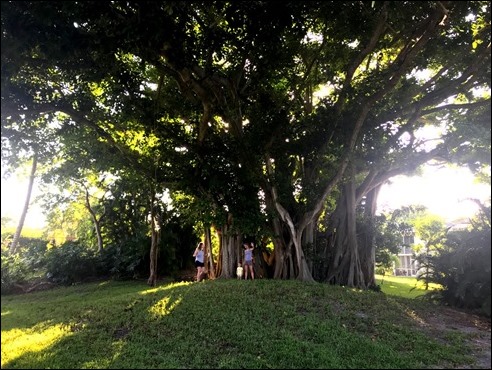 What a great time with family … and I will miss them until next time.