Posted By RichC on October 29, 2018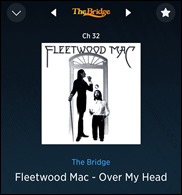 With Rumours of Fleetwood Mac coming to Cincinnati, it is time to get in the mood by adding another one of their live YouTube hits to the blog. One wonders how long music will continue to be available on YouTube, although just as with air-play radio for decades, it is still a way for musicians to have their new and previously recorded songs played.
I'll use the album art from SiriusXM's The Bridge station, where Fleetwood Mac is often played … it is from the 1975 album art althought the below is a much later live version of Christine McVie's "Over My Head."
| | |
| --- | --- |
| | Fleetwood Mac | Over My Head – Live |