Posted By RichC on October 5, 2018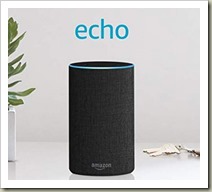 The Amazon Echo has been a fun gadget to use and have in our home since Katelyn and Drew gave it to us for Christmas. After having our granddaughter Annalyn with us for a few days last week, I realized we don't always have the volume set appropriately especially when she is sleeping. Hm … besides turning off the "OK" notifications when requesting a light off or something, how about getting Alexa to "whisper?"
Well, Amazon developers finally listened to users' pleas and will be releasing a new feature called Whisper mode. Simply whisper your command to Alexa and she'll whisper back.

Here are a few more details on CNET:
How it works

Human speech and human whispers are created differently. When humans speak, we use their vocal cords to create sound vibrations.

When we whisper, we mostly use puffs of air to make words. Because of this, the Amazon development team had to teach Alexa a new way to listen and how to respond in kind. Want to learn more about the process? They published a paper on their research and posted it as a PDF online, here.

When can I use it?

The whisper feature will be released in the United States in October. No word yet about releases in other countries, yet.