Posted By RichC on February 6, 2019
We often act as if we are so enlightened in the 21st century when it comes to political philosophy and an understanding as to what motivates human beings. Politicians, and in turn their dreamy-eyed followers, are once again attempting to solve income equality with big government and expensive social programs that propose to "tax the rich" … not unlike what has been attempted in socialist countries in the past (or even in our own country with the memorable LBJ "Great Society." For all the millions of dollars, did it work? No!).
Good to remember we've seen it fail and debated many times before, but will we learn?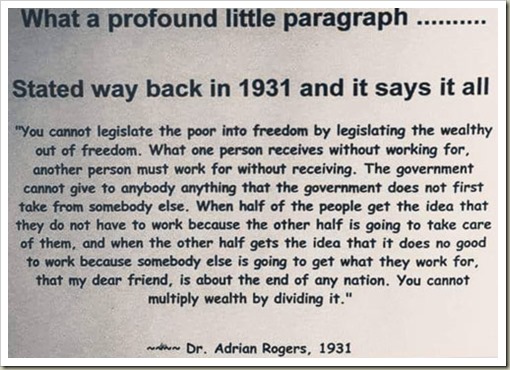 EDIT – always good to get it correct:
Dr. Adrian Rogers – (1931-2005) American pastor
Often attributed to Dr. Rogers with an incorrect date of 1931. The quotation is part of a longer 1984 sermon in a larger series titled "God's Way to Health, Wealth and Wisdom" (CDA107); it also appears in Dr. Rogers' 1996 work "Ten Secrets for a Successful Family" stating that "by and large our young people do not know either the importance or the value of honest labor". Rogers did not originate the quote and did not claim to have originated it. Instead, he was citing almost verbatim a bit of anti-Soviet propaganda that had circulated in many magazines in the early 1960's. The quote appeared before that in the Congressional Record of 1958, where they were appended to the record by congressman Bruce Alger. Alger had borrowed the words from Gerald L. K. Smith, who had written them first in his magazine, The Cross and the Flag. Since the quote was attributed to Rogers in 2009, it has been regularly attributed to him; however, Rogers was essentially quoting Smith at the time.