Posted By RichC on April 8, 2019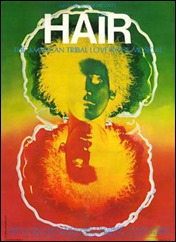 Likely having any connection to the 1960's hippie counterculture would be a surprise to those who have only known me after becoming a semi-responsible parent (and grandparent!) … but I was once young and had friends with older brothers and sisters, although thankfully for us it did not include drugs the behaviors part of the sexual revolution. None of my friends were really ever too far from 1970's normal (questionable enough), but there were things in high school and college that raise my eyebrow when remembering back. Still, my college friend Jeff regularly reminds me … or jokingly warns me … there are "stories he [we] could tell" (a reference to a Jimmy Buffett song).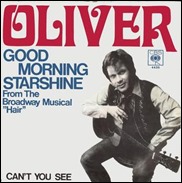 Last week I heard Good Morning Starshine (below) on the long drive back from Florida reminded me that Brenda and I went to see the musical Hair when we were first married (a decade or so after it débuted). Thankfully we aren't aren't quite as old as those who were making music and history back the 1960s (I was only 10) … but am including it for a Music Monday memory just the same.  I also thought there was an apropos 1969 Tony Awards YouTube video (below the break) featuring some music from Hair which included a Harry Belafonte speech concerning our country's unrest which seemed as fitting today as it was then. Hm??
| | |
| --- | --- |
| | Oliver – Good Morning Starshine (mp3) | 1969 |