Posted By RichC on May 18, 2019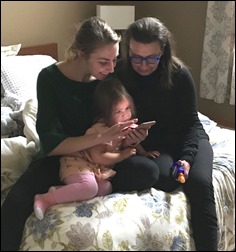 A bit late on the blog, but I'm archiving a few photos from last weekend with the kids in Perrysburg celebrating Mother's Day and Katelyn's birthday (which I mistakenly did not post about on my blog last week). I am reminded in looking at these photos to count my blessings.
We enjoyed a dinner out at a Hibachi restaurant with Taylor, Megan, Katelyn, Drew and Annalyn … and enjoyed some fun with Annalyn at a park after church. So much fun.
Brenda and I were off to Delray Beach, FL on Monday morning to continue to work on the cleanup and updates (posting tomorrow) to the dining room chairs re-upholstery and master bathroom updates. A whirlwind week and not sure if I'm glad to be back home or not with all the spring chores?