Posted By RichC on June 6, 2019
Who doesn't enjoyed reminiscing and remembering fond memories from the past?  I know I do … and it is obvious the actor Rob Lowe does as well.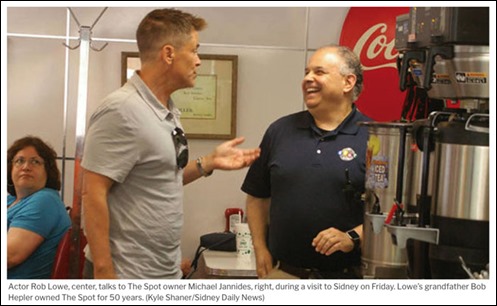 Last week the actor was in Sidney, Ohio before his one-man show at the Schuster Center in Dayton. His fondest for the Dayton area is fairly well know, but even I didn't know he had a connection to Sidney … my parents home for almost 40 years and where I graduated high school? We ate at The Spot restaurant dozens of times … and even after listening to the many stories from my parents over the years, the fact Rob Lowe's grandfather, Bob Hepler owned The Spot for 50 years, it never came up (history).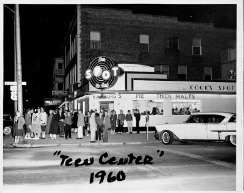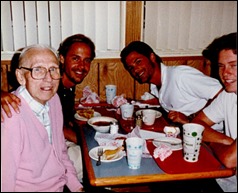 A Teen Center in 1960 and a photo of Rob, Mika & Chad Lowe and grandfather Bob Hepler 1992
Huh, it seems strange considering all the interesting tidbits and newspaper clippings my mom would share with me over the years that she didn't mention the Rob Lowe connection? (and now  my daughter Katelyn is the one finding and share interesting Sidney tidbits to share with me! HA!)    
SIDNEY – Actor Rob Lowe, who is known for roles in "St. Elmo's Fire," "The Outsiders," "Parks and Recreation" and the "West Wing" among many others, visited Sidney on Friday.

Lowe is in Ohio for his show "Stories I Only Tell My Friends LIVE" and stopped by Sidney to explore childhood memories and eat at The Spot, a restaurant his grandfather Bob Hepler owned and operated for 50 years.

"It's probably been 20 years (since I visited), but Sidney was my second home growing up as a kid," Lowe said. "I grew up in Dayton, but my grandparents lived here. I spent almost half my life in Sidney so I like to come back and see the old house, see The Spot and look at the memories."

His show, inspired by his memoirs "Stories I Only Tell My Friends" and "Love Life," explores his four-decade career in Hollywood, fame, fatherhood and marriage. He performed on Thursday in Cleveland and has shows on Saturday at Cincinnati's Aronoff Center and Sunday at Dayton's Schuster Center.

The Dayton Foundation will be in the lobby of his show at the Schuster Center to collect donations for victims of the Memorial Day tornadoes in Ohio.

On his way to this weekend's shows, Lowe ate lunch at The Spot and received a tour of the restaurant his grandfather used to own. The current owner, Michael Jannides, gave him a 100th year anniversary memorial Frisbee and a poster before he left.

"There's a long list of people that have made their way here, but I haven't seen him in here yet," Jannides said of meeting Lowe. "I met his brother, Chad, a few years back; they came in for a visit. But it was real exciting.

"And he was super excited. I gave him a tour of the back, and he remembers a lot of it when he was a younger kid and his grandpa was here."

During Friday's visit, Lowe ordered his favorite meal from The Spot.

"I always got the old fashioned cream pie, of course, and double cheeseburger and some chili," he said. "That's what I had tonight."

For more information about Lowe's "Stories I Only Tell My Friends LIVE" show, visit this website.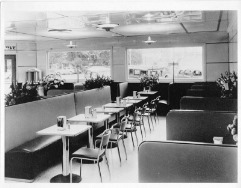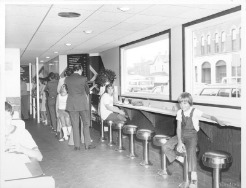 The way I sort of remember it the first time in the 1970s